2008 Minneapolis Underground Film Festival: Award Winners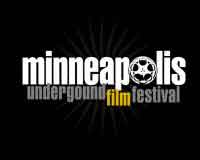 The first ever Minneapolis Underground Film Festival opened to rave reviews this year. Well, I know a couple filmmakers who had movies in the fest who attended and they said they had a great time. And that was before one of them told me he had won an award!
The fest ran just last weekend, Aug. 29-31, and I praised their lineup when I posted it because they programmed several of my favorite films that have been reviewed right here on the Underground Film Journal. The rest of the lineup really great, too, and I should have a review or two of some of them in the coming weeks, which I'm very excited about.
Now, festival director Greg Yolen has sent me the list of MUFF's award winners, which are listed below. Two very special shout-outs, though. First, a special congrats to director Anthony Rivero Stabley for winning the Underground Spirit Award for his amazing Marta's Sex Tape, which was just reviewed this week on the Underground Film Journal. It's a really fantastic, sexy film, so I'm thrilled for Stabley and his great cast and crew.
Congrats to everybody who won, and even to those who were just in the fest. Sounds like Yolen hit a home run right out of the gate. The winners are below. And below that are some extra fun stats that Yolen also sent out:
Best Documentary
Urban Explorers: Into the Darkness
Dir. Melody Gilbert
Best Feature
Salia
Dir. Julia Ostertag
(Read the review)
Best Short
5 Steps to your Personal Golden Gate
Underground Spirit Award
Marta's Sex Tape
Dir. Anthony Rivero Stabley
(Read the review)
Best Cinematography
Je ne sais quoi
Dir. John Koch
Audience Award
Unspeakable
Dir. Marc Rokoff
Number of website hits YTD: 41,041 hits
Busiest day: August 29th 2008 4,592 hits
Number of films shown: 37
Number of filmmakers present: 14
Total Number of audience members: 1,018