2008 Melbourne Underground Film Festival: Official Lineup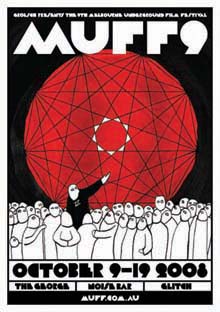 I'm going to coin a new word here: Brutiful, which is a combination of the words "brutal" and "beautiful." As of now, it's the only word I can use to describe the program guide for the 9th annual Melbourne Underground Film Festival. Truly, it is a thing of beauty to behold, but absolutely brutal in its thoroughness.
This is particularly funny since festival director Richard Wolstencroft told me a month or two ago that he was going to scale the festival back a little bit this year. Well, if you consider me only bleeding out of 9 fingernails out of 10 transferring the entire program into the lineup below, then well yes, he's "scaled back."
Again, we have an amazing lineup for this incredibly dense film festival Down Under. New films, classics, oddball retrospectives and, probably most bizarre, a section programmed by me, your Underground Film Journal editor. This is my first stab at "curating" or "programming" or whatchamacallit and I thank Richard immensely for the inclusion.
Just reading the lineup below may inspire madness. Typing it up sure did. But, gaze and marvel at the wonder of it all. But before diving in, I have quite a few Underground Film Journal shout-outs to give.
First, having programmed the "Avant MUFF" section of the festival, I have to recommend the Mike Z retrospective featuring his best hoax works. I think this is the first retrospective for this amazing talent. Also screening is one of my favorite films of the year: Joshua von Brown's incredible Altamont Now; and an old classic, the documentary Plaster Caster. (I thought throwing in a penis movie might help Richard get in trouble with the censors again.)
In addition, I recommend Sam Barrett's nasty Aussie thriller No Through Road; Kenta McGrath's mean mini-feature Hole in the Ground and, included in the horror shorts collection, Dalibor Backovic's icky The Ancient Rite of Corey McGillis.
As for the rest, read on. If you dare:
Oct. 9
7:00 p.m.: The Gates of Hell, dir. Kel Dolen. A reality TV show crew spend the night in an allegedly haunted house and find themselves chased and eaten by a mob of cannibalistic freaks.
Screening with: Garden of Earthly Delights, dir. Stuart Simpson
Oct. 10
7:00 p.m.: Xavier Hollandier: The Happy Hooker, dir. Robert Dunlap. A documentary about the legendary madame.
7:00 p.m.: Wicked Lake, dir. Zach Passero. Four young women adore a young man they just met so much that they just want to eat him up. No, literally they want to eat him alive because they're cannibals.
7:00 p.m.: Messiah of Dust, dir. Michael Andre. A man burns his BMW and retreats into the Australian outback in order to forge a new identity for himself, which may be as a new messiah.
9:00 p.m.: "A Night of Horror Shorts"
The MFF vs The Evil Dead, dir. Monkey Farm Frankenstein
The Demonology of Desire, dir. Rodrigo Gudino
When Sally Met Frank, dir. Victoria Waghorn
Criticized, dir. Richard Gale
Dara, dir. The Mo Brothers
Egg Ghost, dir. DongKeun Lee
Peekers, dir. Mark Steensland
The Ancient Rite of Corey McGillis, dir. Dalibor Backovic (Read the underground movie review)
9:00 p.m.: The Atrocity Exhibition, dir. Peter Weiss. An adaptation of the JG Ballard experimental novel that takes place in an insane asylum.
9:00 p.m.: Reel Zombies, dirs. David J. Francis and Mike Masters. A pair of inept horror movie directors tackle their biggest project yet: A movie set in their own world where zombies have really come back to life.
11:00 p.m: Next of Kin, dir. Tony Williams. A serial killer stalks the halls of a retirement home.
11:00 p.m.: Cannibal Suburbia, dir. Jean-Luc Syndikas. A trio of gruesome stories are told to one poor unfortunate soul bound and gagged and forced to listen.
11:00 p.m.: Body Love, dir. Lasse Braun. A married pair of swingers through a big party for their daughter to lose her virginity.
Oct. 11
5:00 p.m.: Plaster Caster, dir. Jessica Everleth. A documentary about the legendary groupie Cynthia Plaster Caster who has made a career out of capturing rock star penises in plaster. (Read the underground movie review)
7:00 p.m.: Acolytes, dir. Jon Hewitt. Two bullied teenage boys meet a serial killer in their own neighborhood and blackmail him into murdering the bully who's been tormenting them.
7:00 p.m.: Vinyl, dir. Andy Warhol. A loose adaptation of A Clockwork Orange.
9:00 p.m.: The Beautiful and Damned, dir. Richard Wolstencroft. Party boy meets party girl, gets married and parties the years away while waiting for dear old grandpa to croak so they can inherit his fortune. Based on the novel by F. Scott Fitzgerald. (Read the underground movie review)
11:00 p.m.: Cosy Cool, dir. Gary Young. Two fun-loving guys have a great time hooking up with a pair of lovely lasses — until they're framed for the girls' murder.
Oct. 12
7:00 p.m.: Mishima, dir. Paul Schrader. A biopic about the famous avant-garde Japanese writer who committed seppuku. Part of a Mishima retrospective.
7:00 p.m.: "Polyester Totally Weird Shit! Salo documentary focus"
Salo: Yesterday and Today
Fade to Black
The End of Salo
7:00 p.m.: When You Comin' Back, Red Rider?, dir. Milton Katselas. A Vietnam veteran freaks out and holds the customers of a diner hostage. Part of a Marjoe Gortner retrospective.
9:00 p.m.: "Spliff Shorts"
Cotton Tails, dir. Gareth Lockett
Body Pockets, dir. Mike Hoath
I Spit On Your Video Collection, dir. Tanyavision
Existence, dir. Timothy Merks
Violent Blue Light Ghosts, dir. Richard Eames
Smoke and Mirrors / Snowman, dir. Steve McCallum
Mondo Bizaaro
Home Surgery Episode 1, dir. Chucky Wonkers
Night Fill, dir. Luke Jago
Then You Appear/Panda Band, dirs. Noah Norton & Wendy Greame
Zap, dir. Corrie Birch
Happy in Our Graves Ten Years Deep, dir. Richard Eames
Mondo Bizaaro
Home Surgery Episode 2, dir. Chucky Wonkers
Stump, dir. Rob Forsyth
9:00 p.m.: Gold, dirs. Bill Desloge & Bob Levis. This mostly forgotten classic from the '60s features Del Close leading a communal town on its search for gold.
Screening with: Totally Weird Shit, dirs. Simon Strong & Aaron Goldberg
9:00 p.m.: Marjoe, dirs. Sarah Kernochan & Howard Smith. A documentary profile of Marjoe Gortner the former child evangelist who became a drug addict, then once he got clean again gave evangelizing a second chance. Part of a Marjoe Gortner retrospective.
Oct. 13
5:00 p..m: "Mini MUFF Session 1"
Addiction, dir. Mark Aquilina
A Good Daughter, dir. Risto Tuominen
When Sally Met Frank, dir. Victoria Waghorn
Gravel 300, dir. Makoto Takaoka
Tripswitch, dir. Anthony Sutcliffe
The Cypriot, dir. Vincent Taylor
Statuekiller, dir. Clay Burke
Avatar, dir. James Pickles
The Race, dir. Kate Mills
With a Seed Between the Teeth, dir. Joao Oliveira
Night Birds, dir. Nicholas Prideaux
Roller Derby Dolls, dir. Phobe Hart
7:00 p.m.: "Mini MUFF Session 2"
Diva, dir. Josephine Mackerras
Jailbird, dir. James Breen
A Break in Monotony, dir. Damien Slevin
Odds On, dir. Nicholas Sherry
Greaseland, dir. Peter Boyd Maclean
Method, dir. Ben Power
Rebel, dir. Nicole Brending
Primal Urges, dir. Ben O'Mara
In the Genes, dir. Tony Chu
Being Barry, dir. Kayla Davison
DOTCOM, dir. Magda Matwiejew
Split, dir. Kitty Green
Day Seven, dir. Tim Marshall
Biotech 8, dir. Alex Nakone
7:00 p.m.: "Canadian Horror Shorts"
Film lineup TBA
9:00 p.m.: "Mini MUFF Session 3"
Strangers, dir. Phillipe Lord
You Better Watch Out, dir. Steve Callen
Why Long Face?, dir. Christina Yiannakis
Me & Ex Me, dir. Adam Bigum
Stroking 8, dir. Jack Wareham
Charcoal Traffic, dir. Nathan Collett
Dead Boyfriends, dir. Xstine Cook.
Duality, dir. Jerry Rector
Alicia in Wonderland, dir. Martin Gauvreau
9:00 p.m.: Godspeed You Black Emperor, dir. Mitsuo Yanagimachi. A documentary about a Japanese Nazi biker gang.
Oct. 14
7:00 p.m.: "Mini MUFF Session 4"
Panacea, dir. Benjamin Samuel Broso
Nine, dir. Ulysses Oliver
Agamemnon, dir. Jamie Sewell
Transport, dir. Richard Plumridge
The End, dir. Luke McKay
Panty Portal, dir. Sandi Somers
La Tangente, dir. Vincent Vesco
Machina, dir. Andrew Wilson
Frequency, dir. James Base
Night Owls, dir. Peter Powell
7:00 p.m.: Black Lizard, dir. Kinji Fukasaku. A strange tale about a collector of jewels and dolls.
9:00 p.m.: "Mini MUFF Session 5"
Undertow, dir. George Karpithakis
Deadly Bastard, dir. Steven Whatmough
The Sunrise, dir. David Fairclough
Undead Ted, dir. Daniel Knight
The Pink Box, dir. Matt Pastor
Safe House, dir. Stephen Sherrard-Griffith
The Accountant and the Clown, dir. Josh Tanner
Pasolini the Pornographer, dir. Christian Gilbert
Yesterday, dir. Adam Marshall
A Different Cut, dir. Fahim Ahad
What do you reckon, Grustov?, dir. Amy Thomas
The Only House on the Street, dir. David Wade
Heartbreak Motel, dir. Aaron McLoughlin
9:00 p.m.: Afraid to Die, dir. Yasuzo Masumura. A yakuza gangster is released from prison only to revert back to a life of crime. Part of a Mishima retrospective.
Oct. 15
7:00 p.m.: Automatons, dir. James Felix McKenney. A woman cowers in her bunker building robots to fight in the great robot war waging on the surface outside.
7:00 p.m.: "Mike Z Retrospective"
How to Start a Revolution in America
My Left Nut
Don't Watch This Until I'm Dead
Military Takeover of New York City
Focus Group
Could This Be Real?
Deathbed Confession
The Real George W. Bush
Emergency Announcement
9:00 p.m.: Altamont Now, dir. Joshua von Brown. Mark Clark is an investigative journalist who penetrates the underground world of rock revolutionaries who literally live under the ground of the California desert and the site of the notorious '60s Rolling Stones concert. This is what happens when the youth really stage a revolution. (Read the underground movie review)
9:00 p.m.: No Through Road, dir. Sam Barrett. A mild-mannered photographer has his peaceful life interrupted when a terrified woman breaks into his house. Why's she so terrified? The three thugs outside who will go to any brutal lengths to get their meaty paws on her. (Read the underground movie review)
Oct. 16
7:00 p.m.: Wake in Fright, dir. Ted Kotcheff. An effete schoolteacher slowly loses his mind living in a dead end desert town.
7:00 p.m.: "Mini MUFF Session 6"
Corrections, dir. Bob Franklin
Sophie's Secret, dir. Yen-Jung Chang
Jumping Jack, dir. Julian Vincent Constanzo
Tar, dir. Carl Stella
Saucer, dir. Gary Maas
The Killer, dir. Kate Witchard
The Making of a Winning Tropfest Film, dir. Tim Maricic
Pachinko, dir. Brenton Priestley
Subject, dir. Ben Wade
Women and Children, dir. Karl Madderom
Cut and Paste, dir. Stefan Pagenstecher
The Girl in the Red Dress, dirs. Chris and Robert Smellin
Karaoke Show, dir. Karl Tebbe
Piter, dir. Georgina Foley
7:00 p.m.: Diary of a Bad Lad, dir. Michael Booth. A documentarian wants to make a film on the world of crime, so he befriends a local pimp and his gang.
9:00 p.m.: The Run, dir. Tania Meneguzzi. A wannabe rock star has her career derailed when she and her boyfriend get involved in a drug smuggling ring.
9:00 p.m.: "Medieval Yore"
Yoretymes Fairy Tale, dir. Moe (Maurice Campobasso)
Silent Witness, dir. Tom Taylor
9:00 p.m.: La Fessee, dir. Claude Bernard-Aubert. A horny French dude wanders the streets of Paris looking for women to spank.
Oct. 17
5:00 p.m.: Rigged, dir. Jonathan Dillon. A street racing promoter changes up his game when he meets and starts promoting a young female amateur pugilist.
5:00 p.m.: Beyond My Reach. Info not available.
7:00 p.m.: Dead Girl, dirs. Marcel Sarmiento & Gadi Harel. Two teenage boys enter an abandoned warehouse and find a girl strapped to a table and wrapped in plastic. When the body begins to move, the kids think they've found their own personal sex slave.
7:00 p.m.: "Mini MUFF Session 7"
Problems, dir. Nathan Mewett
Eel Girl, dir. Paul Campion
19 Days, dir. Kristy Chooi
Dust to Dust, dir. Darren Clark
A Difference in Shadow, dir. Michael Mier
Love on Track, dir. Alison Heather
The New Life, dir. Daniel Giambruno
I Know What Girls Like, dir. Steffen Frech
Lipstick, dir. Shane Pullen
Cienfuegos, dir. Richard McFarlane
Bird, dir. Melanie Brunt
Monkeynaut, dir. Susie Jones
Videotape, dir. Andrew Goldsmith
The Countdown, dir. Martin Copping
Hamish, dir. Hannah Moon
Eleven, dir. Lawrence Lim
Cash Savvy, dir. James Aitchison
7:00 p.m.: Summer Scars, dir. Julian Richards. Six teenagers hope to have a debauched afternoon after skipping school, but end up trapped in a terrifying situation.
9:00 p.m.: Devil's Gateway, dir. Alexander Herget. A paranormal reality TV show crew sets up camp in a prison for the night and ends up unlocking the gate to Hell itself.
9:00 p.m.: SRL Labs: Ten Years of Robotic Mayhem, dir. Jon Reiss. A profile of the San Francisco art collective that builds giant monsters and robots that do battle with each other.
9:00 p.m.: Plum Role, dir. Zak Hilditch. An actor gets his big break starring in a TV show. To celebrate he picks up what he wants to be a one-night-stand, but the girl has other plans in mind.
11:00 p.m.: The Man From Hong Kong, dir. Brian Trenchard-Smith. A Hong Kong cop pursues an evil criminal mastermind.
11:00 p.m.: The Story of the Eye, dir. Andrew Repasky Mcelhinney. In a run-down house, various couples enact strange sexual rituals. Based on the novel by Georges Bataille.
11:00 p.m.: The Season, dir. Adam Edward Brooks. A group of travelers run afoul an Amish colony that believes in human sacrifice.
Oct. 18
5:00 p.m.: A Song of Good, dir. Gregory King. A drug addict inadvertently commits an act of criminal treachery, then tries to remedy the situation and make amends.
5:00 p.m.: Hole in the Ground, dir. Kenta McGrath. An alienated young man livens up his life up by causing anti-social acts and videotaping them. (Read the underground movie review)
Screening with: Morning Theft, dir. Shaun Katz. A teenage girl has her life changed — and not all in good ways — by the different men in her life.
7:00 p.m.: Soi Cowboy, dir. Thomas Clay. A fat Western dude uses an underage Thai girl as his sex slave while her brother must kill his older sibling and present it as a "gift" to a mobster.
7:00 p.m.: Day Night Day Night, Julia Loktev. A female suicide bomber prepares to blow herself up in Times Square.
9:00 p.m.: The Horseman, dir. Steven Kastrissios. A father seeks revenge when he gets a videotape that shows his daughter raped and possibly murdered.
9:00 p.m.: Viva Knievel, dir. Gordon Douglas. Famed stuntman Evel Knievel stars as himself who must dodge a drug smuggling operation while touring with his daredevil act. Part of a Marjoe Gortner retrospective.
11:00 p.m.: Felicity, dir. John D Lamond. A naive Australian girl is introduced to a world of sexual delights on a trip to Hong Kong.
11:00 p.m.: Bobbie Jo and the Outlaw, dir. Mark L. Lester. A carhop waitress falls for a common criminal and the two go on a crime spree together. Part of a Marjoe Gortner retrospective.
Oct. 19
5:00 p.m.: The Court of Lonely Royals, dir. Rohan Michael Hoole. A group of young adults pass the time by committing executions for the police.
7:00 p.m.: Tin Can Man, dir. Ivan Kavanagh. A down-on-his-luck fellow has his luck squashed even further when his insane neighbor invites himself in to "use the phone," only to torture and mentally abuse the poor bastard.
Screening with: Sin Shoes, dir. Jose Raoul Palomar
For more info, please visit the official MUFF site.