2008 Lausanne Underground Film Festival: Call For Entries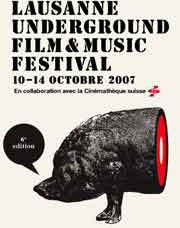 The Lausanne Underground Film Festival, held in swanky Switzerland, is currently looking for submissions for this year's fest, which will be held Oct. 15-19. And here's the best part: No entry fees. Also, there's only one deadline date:
Deadline:
June 15
That's pretty soon, so get your films in pronto. If you want an idea of what they're looking for, here's their mission statement:
It is always easier for the filmmakers to decide if their film is underground or not. But to give an idea of what we are looking for, we think that underground films do not make any compromise to be made or to be seen. Underground films accept no limits, no censorships and always present an innovative point of view. The LUFF has been created after the New York Underground Film Festival, then its purpose remains the same: to support and promote films that push boundaries and break new ground — that challenge, entertain and provoke.
LUFF always seems to have a great lineup every year, with a mix of outrageous new films and interesting retrospectives. Last year they featured films starring and by Andy Warhol's superstars and outsider filmmaker Koji Wakamatsu. Plus, the dude who runs it, Julien Bodivit is always a really nice guy and a friend to the site.
For submission info, please visit LUFF's official website.