2008 Chicago Underground Film Festival: Official Lineup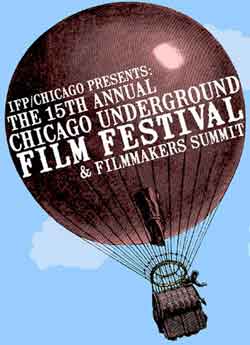 This is the 15th year for the Chicago Underground Film Festival, but it's the first edition of the fest to run since being acquired by IFP/Chicago. However, other than moving the festival from its traditional late August position to Halloween season, it looks to be the same kick-ass festival it's always been.
There doesn't appear to be any change in tone or style to the festival and many CUFF alumni, such as Todd Verow and James Fotopoulos, have returned with new films. Once again there's an impressive mix of provocative documentaries, experimental features and lots and lots and lots of short films.
With a fest this big, this comprehensive and this impressive I have only a few Underground Film Journal shout-outs. First, there's Craig Baldwin's mind-boggling Mock Up on Mu, a movie so jam-packed with so much info, storylines and images from other feature films, that it's really enough entertainment for 10 movies.
Actually, that's the only feature shout-out I have. On the short film front, there's Chicago native Lisa Barcy's Mermaid, which I haven't seen the full thing, but the re-edited version I did catch was brilliant enough. I'm dying to see the full version. So, see it yourself and tell me how it is so I can feel jealous. Then I highly recommend Tony Gault's remixed Case Studies in Psychotherapy, which succeeds in being totally sadistic and hilarious.
Other than that, here's the full, outrageous lineup:
Oct. 29
7:30 p.m.: Anywhere USA, dir. Chusy Haney-Jardine. A trio of stories in which a man gets beaten by his wife everyday at 2:00 p.m.; an eight-year-old accidentally eats a pot brownie; and a man eating a steak realizes he doesn't know any black people.
Oct. 30
5:30 p.m.: An Alternative to Slitting Your Wrist, dir. Owen Lowery. The director makes a list of 52 things he wants to accomplish per week for an entire year, then documents his attempt to do all those things.
5:45 p.m.: "Mermaid Island"
Mermaid, dir. Lisa Barcy
The Eye You Lost in the Crusades (Califone), dir. Jay Eckensberger
Ellie, dir. Robert O'Connor
The Hijab of Dena, dir. Erika Rydell
Mud & Glory, dir. Ines Sommer
Huge Flag, dir. Jessie Stead
Separating Ourselves, dir. Rachel Walker
Nowhere Island, dir. Hsu Ya-Ting
7:15 p.m.: How to Cross a Border, dir. Tim Parsa. In this documentary, an American expat living in Mexico City decides he wants to return home and tries to help a Mexican horse groomer cross the border into the U.S. to work.
7:30 p.m.: "Reel Moments"
Death of the Reel, dir. Benjamin Meade (Read the underground movie review)
'Charlie Rose' by Samuel Beckett, dir. Andrew Filippone Jr. (Read the underground movie review)
Artist Statement, dir. Daniel Barrow
Condensed Movie #2, dir. Kent Lambert
The Universe & Young Pilot Nelson, dir. Jerzy Rose
City Wasp, dir. Tod Steven, Stephan Wicki
Paul and the Badger – Episode 3, dir. Paul Tarrago
The Last Moment, dir. Deco Dawson
9:00 p.m.: The Auteur, dir. James Westby. Arturo Domingo is one of the top porn directors in the business who suffers an ignominious weekend when he accepts a lifetime achievement award.
9:15 p.m.: "Urban Artifacts"
Undefeated, dir. Kevin Jerome Everson
Waiting on God, dir. Scott Smith
He Hates to Be Second, dir. Kelly Sears
Broad Day, dir. Kevin Jerome Everson
Tripp, dir. Alexander Rojas
Ninety-Three, dir. Kevin Jerome Everson
The Scrapper, dir. Jonathan Olshefski (Read the underground movie review)
Mrs. Henderson's Kids, dir. Veena Rao
10:30 p.m.: Hoopeston, dir. Thomas Bender. Hoopeston is a real town just outside of Chicago that went from being the global capital of sweet corn production to a devastated community in just a few short years. Meet some of the more intriguing residents, including a Wiccan who founds the nation's first witch school, a beads industry transplant from Virginia Beach, a pagan CEO and the young leader of the Corellian Tradition.
Oct. 31
5:30 p.m.: The Golden Age of Fish, dir. Kevin Jerome Everson. A fragmentary history of Cleveland, OH from the prehistoric past to the late twentieth century.
6:00 p.m.: "Hard Work"
956, dir. Jenny Stark
Tour/Tower, dir. Roger Beebe
Isabell, dir. Kathleen Rugh
Dig, dir. Robert Todd
From Saturday to Sunday, dir. Natalija Vekic and Christian Bruno
A Love Story (I Want You – Pt. 1 and No Matter What – Pt. 2), dir. Kali Heitholt
Victory Over the Sun, dir. Michael Robinson
Bumblebee, dir. Eric Ostrowski
Yard Work Is Hard Work, dir. Jodie Mack (Watch this underground movie streaming online)
7:15 p.m.: She's a Boy I Knew, dir. Gwen Haworth. Steven Howarth chronicled his change into Gwen Howarth, plus how his decision impacted his family.
7:45 p.m.: "Travel Guide"
Pop Bridge, dir. Jason Halprin
Mylar Balloon Rip-off, dir. Jason Halprin
Monongahela Ghost Train, dir. Jason Halprin
Obar, dir. Taylor Dunne
Frank, dir. Bill Basquin
Sanctuary, dir. Vanessa O'Neill
Themes & Variations for the Naked Eye, dir. Caitlin Horsmon
21 Alleys, dir. Robert Todd
Ah, Liberty!, dir. Ben Rivers
8:00 p.m.: Night Tide, dir. Curtis Harrington. In this 1961 underground classic, Dennis Hopper stars as a sailor who falls in love with a sideshow performer, who may just be a real-life mermaid.
8:45 p.m.: A Necessary Death, dir. Daniel Stamm. A film student wants to make a project about a potential suicide victim, so he hooks up with a man who wants to kill himself before his brain tumor does the deed first.
9:15 p.m.: "Research Methods"
Motion Studies: Inertia, dir. Jeff Mahaffy
Black and White Trypps Number Four, dir. Ben Russell
Degradation # 1, X- Ray, dir. James June Schneider
Teslamania, dir. Joel Schlemowitz
On the Logic of Dubious Historical Accounts, 1969 – 1972, dirs. Alexander Stewart and Peter Miller
Speechless, dir. Scott Stark
Case Studies in Psychotherapy, dir. Tony Gault (Read the underground movie review)
Artifices #1, dir. Alexandre Larose
Severing the Soul, dir. Barbara Klutinis
The Eternal Quarter Inch, dir. Jesse McLean
10:30 p.m.: Such Hawks, Such Hounds: Scenes From The American Hard Rock Underground, dirs. Jessica Hundley, John Srebalus. Hard rock gets the history treatment in this profile of bands such as Black Sabbath, Hawkwind, Corrosion of Conformity, the Melvins, Bardo Pond, Comets on Fire, Fu Manchu, Kyuss and many more.
Nov. 1
1:00 p.m.: The Atom Smashers, dirs. Clayton Brown, Monica Ross. American scientists race to find "the god particle" just at the same time when funding for science is being slashed by the government in this documentary.
2:45 p.m.: Wellness, dir. Jake Mahaffy. A salesman for a so-called miracle drug slowly begins to realize he's being scammed by his employer.
3:15 p.m.: "Rays of Light"
Light Is Waiting, dir. Michael Robinson (Watch this underground movie streaming online)
Canons, dir. Keith Tassick
Terraform Dance Party, dir. Jeremy Bailey
The Visit and the Play, dir. Stephanie Barber
Out of Print, dir. Danny Plotnick
The Truth and the Pleasure, dir. Jennet Thomas
Tony Conrad, Dreaminimalist, dir. Marie Losier
4:30 p.m.: Between Something & Nothing, dir. Todd Verow. Two art school students get into trouble when one of them develops a homosexual relationship with a male hustler and the other becomes involved in a bad drug deal.
5:00 p.m.: "Look Out There"
P.R., dir. Bryan Leister
Dirty Pictures, dir. John Smith
Circles of Confusion, dir. phoebe tooke
Landscape in a Portrait, dir. Dustin Thompson
Norte y Sur – North and South, dir. Luis Sanchez Ramirez
6:30 p.m.: The Juche Idea, dir. Jim Finn. "Juche" is the official North Korean religious and political ideology and it means "self-reliance." In Finn's film, a South Korean video artist takes a residency in the North and tries to bring "Juche" into the world of revolutionary art.
Screening with Whoop Draft (Water Babies), dir. Usama Alshaibi
6:45 p.m.: We Are Wizards, dir. Josh Koury. A look at the phenomenon of "Wizard Rock," i.e. rock bands who only sing songs about the world of Harry Potter. (Watch this underground movie streaming online)
8:15 p.m.: "Curtis Harrington Shorts"
A Fragment of Seeking, dir. Curtis Harrington
Picnic, dir. Curtis Harrington
On the Edge, dir. Curtis Harrington
The Wormwood Star, dir. Curtis Harrington
The Assignation, dir. Curtis Harrington
8:30 p.m.: Accidents at Home and How They Happen, dir. Jennifer Reeder. After her twin sister commits suicide, a young woman's life starts falling apart and she starts contemplating following in her sibling's footsteps.
9:30 p.m.: Sleep Weep (The Zookeeper), dir. James Fotopoulos. After his wife is brutally raped and murdered, a grief stricken zookeeper befriends a damaged young boy who collects porn and terrorism videotapes.
10:15 p.m.: Mock Up on Mu, dir. Craig Baldwin. The legendary collage filmmaker is back with his latest feature, a surrealistic blend of spy, sci-fi, Western and horror genres. Fiction and non-fiction archival material blend together to tell the rich history of the militarization of space from the viewpoint of three diverse individuals: Jet Propulsion Laboratory founder Jack Parsons, artist Marjorie Cameron and author L. Ron Hubbard. (Read the underground movie review)
12:00 a.m.: I <3 Presets. A live performance by Rob Ray, Jon Satrom, and Jason Soliday, in which they manipulate found sounds and GIF images.
Nov. 2
10:00 a.m.: "Chic-A-Go-Go Film & Dance Party"
The Early Nineties, dir. Andrew Mailliard
Digital Underpants, dir. Matt Meindl
It's hard to wreck a nice beach/ It's hard to recognize speech, dir. Adebukola Bodunrin
Hay Daze, dir. Cindy Stillwell
New Educational Series – Canaries in Colour, dir. Jill Kennedy
Missouri Fish, dir. Gregory Gutenko 2085
Goblin Good Day, dir. Jake Austen
1:00 p.m.: Silhouette City, dir. Michael Wilson. A look at the Christian fundamentalist movement and it's obsession with the impending apocalypse.
1:30 p.m.: "Restless Mind"
The Ugly Turkey, dir. David Essman
His Holiness Rael, dir. Harvey Benschoter
Forget Her – Magic is Kuntmaster, dir. Kristie Alshaibi
Literally, dir. Marty Shea
Only Just Begun, dir. Jennet Thomas
Penguin Relocation, dir. Raymond Noelle
Spirit (Patti Smith), dir. Jem Cohen
The Adventure, dir. Mike Brune
Karaoke Show, dir. Karl Tebbe
Missing Pieces
3:00 p.m.: It's in the Game, dir. Dylan Griffin. This documentary takes a probing look into the video game industry, including its marketing tactics and the numerous "quality of life" lawsuits filed against Electronic Arts.
3:15 p.m.: "Opera Calling"
pea vs. carrot, dir. Ben Hicks
Action Film, dir. Jennifer Hardacker
Sog, dir. Paddy Jolley
Murder Capital, dir. Marcy Saude
The Green Grass of Twilight, dir. Richie Sherman
Heron Pond: Boardwalk View, dir. Cade Bursell
Spider House, dir. Andrew Wilson
4:30 p.m.: Deliver, dir. Jennifer Montgomery. A an all-female remake of the classic film Deliverance.
4:45 p.m.: "Short Social Sing-alongs"
A Short social commentary on dancing in Second Life, dir. Visakh Menon
Hold Me Now, dir. Michael Robinson
Launch, dir. Brian Doyle
Every (Text, Image, Sound, Movie) on My Cell Phone, dir. Darrin Martin
Anaconda Targets, dir. Dominic Angerame
Prison – Beta, dir. Lucas W. Dimick
6:30 p.m.: "Essential Information"
Future Antiquity: Domestic Surveillance, dir. Lewis Weinberg
Hobbit Love Is the Greatest Love, dir. Steve Reinke
Ceibas: Beneath the Pressure of the Sky, dir. Evan Meaney
The Lincoln Library of Essential Information Volume 20, dir. Kelly Oliver and Keary Rosen
Armored Cars: Protect Yourself From Ballistic Attacks, dir. Angie Waller
This Shall Be a Sign, dir. James T. Hong
6:45 p.m.: "The Eternal Internal"
Through These Trackless Waters, dir. Elizabeth Henry
Studies in Transfalumination, dir. Peter Rose
1 to 8, dir. Amy Schwartz
The Acrobat, dir. Chris Kennedy (Read the underground movie review)
Ring, dir. Robert Todd
Faux Mouvements, dir. Pip Chodorov
Degradation #2, Scratch, dir. James June Schneider (made in collaboration with Paul Bishow)
Office Suite, dir. Robert Todd
8:30 p.m.: Song Sung Blue, dir. Greg Kohs. A documentary about Michael and Claire Sardina, also known as Lightning & Thunder — a Neil Diamond tribute band.
For more info, please visit the official CUFF site.