2008 Boston Underground Film Festival: Official Lineup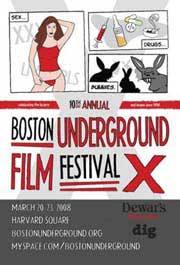 The Boston Underground Film Festival celebrates its astounding 10th anniversary this year with an all-star lineup of great underground features and shorts. Reading over the festival's history, they've had quite a tumultuous time so it's good to see how much they've persisted to become one of the biggest and most impressive underground fests in the country. Originally founded by David Kleiler, the fest now operates under Festival Director Anna Feder and Director of Programming Kevin Monahan. So, congrats to them and here's to 10 more years!
A couple of quick Underground Film Journal-centric programming notes, we've actually reviewed a couple of the short films playing that we recommend. First up, the name that seemed to pop up in just about every underground festival last year was Leah Meyerhoff. This year, BUFF is honoring her with a retrospective. Frankly, I had no idea she was so prolific, but her video for Triple Creme's "Team Queen" is particularly awesome. So, go check that out.
Next, we'd like to recommend and say congrats to Charles Doran for getting his hilarious Westsider into the fest; and to Matthew Stawski for his visual feast, Hank's Auto Repair. Click on the film titles for our reviews of these two great films. And please, if you're going to the fest be sure to see them.
But, how do you know when they're playing? Easy! Just check out our handy-dandy lineup below (director's name included where I could find one):
March 20
7:30 p.m.: The Wizard of Gore, dir. Jeremy Kasten
In this remake of the Herschell Gordon Lewis horror "classic," Crispin Glover stars as Montag the Magnificent who performs a popular Grand Guingol stage show where he carves up a bevy of vixens (played by various Suicide Girls). Enter a snoopy detective Kip Pardue who investigates whether the girls are actually killed or not. Co-starring horror icons Brad Dourif and Jeffrey Combs; as well as Hostel II star Bijou Phillips.
Shown with FEFU: The Dwarves, dir. Robert Sexton; and Demonology of Desire, dir. Rodrigo Gudino.
March 21
12:00 p.m.: "Fresh Cuts"
Hic Decumbent Affectus Mihi
We've Got Everything
Pixel Germ
Lost Friend, dir. Susan Chien
Eyecough
Daddy's Little Man
Bulbing
5 Cents a Peek
A Faery's Tale
The Day the Monsters Came
Utopiate
Snake
Plastic
2:30 p.m.: The Wizard of Gore, dir. Jeremy Kasten.
See March 20, 7:30 p.m. for info.
5:15 p.m.: "Hyperreel"
The Seed, dir. Joe Hahn
Poland Nights, dir. Martin Gauvreau
Red Princess Blues Animated, dirs. Alex Ferrari & Dan Cregan
Light & Darkness: THE ROGUE, dir. Zach LeBeau
Akai, dir. Carlos G. Gananian
Some of an Equation, dir. Burke Roberts
Dach, dirs. Timo Langer & Robert Glassford
7:00 p.m.: "Technicolor Psychotica"
Their Circumstances, dir. Jihun Ahn
Self Help Me, dir. Dick Thompson
Four Act Foreman, dirs. Chuck Barnes & Lois Leveen
Reptile Day, dir. Tom Hickmore
ZombieWestern – It Came From the West, dir. Tor Fruergaard
The Sleuth Incident, dir. Jason Kupfer (Watch online)
A Short Collection Of Hilary Flamingo's Dream Vocations, dir. Harriet Fleuriot
Muledick, dir. Nick Childs
Heat of Youth, dir. Alex Barrett
Hank's Auto Repair, dir. Matthew Stawski (Watch online)
3 Stories About Evil, dir. Michael Frost
7:30 p.m.: La Belle Bête (The Beautiful Beast), dir. Karim Hussain
In a remote house in the French countryside, a dysfunctional family carries out a neverending cycle of emotional abuse. Louise loves her handsome son Patrice and abhors her ugly daughter Isabelle-Marie. However, the sister will one day get her revenge…
Shown with Sweetie, dir. Scott Milder.
9:30 p.m.: Quality Time, dir. Chris LaMont
Stewart Savage is losing his grip on reality. Has the world been flooded by the polar ice caps? Is Stewart an insane serial killer who strangles his girlfriends? Well, he'll find out soon enough when he invites his latest paramour to his birthday party. Corin Nemic stars as Stewart while the rest of the cast includes genre icon Nancy Allen and Star Trek: The Next Generation's John de Lancie. (He played Q.)
Shown with Cracked Eggs, dir. Eric Loren.
9:45 p.m.: Pop Skull, dir. Adam Wingard
Daniel may be a dope fiend, but that doesn't mean the ghosts in his house aren't real. By the way, due to the film's extreme visuals, it's advised that people with epilepsy not attend. Or, go and pretend you have epilepsy and watch the fun begin. (No, don't do that, please.) (Watch online)
Shown with bars+tone, dir. Les Stuck.
11:55 p.m.: "Ocular Penetration"
When Sally Met Frank
Through a Gash Darkly
Plasma Baron
Leperfuck
Dead Man Eating
United We Stand, dir. Rick Floyd
Identity Theft
Foet
The Disassembly Line
The Stewardess, dir. Marcin Glowacki
Meat, dir. Kevin Krutz
Internet Alphabet
March 22
12:15 p.m.: La Belle Bête (The Beautiful Beast), dir. Karim Hussain
See March 21, 7:30 p.m. for info.
2:30 p.m.: "A Day in Leah Land: The Films of Leah Meyerhoff"
Pelvis
Sexercycle
Asphyxiate
An Institutional Look
Pacmouse
Wonderfluff Sandwiches
Neurotica
Waxing Nostalgic
Packaged Goods
Twitch (Watch online)
Team Queen (Read the review)
The Heist
Eternal Flame
Plastic Trees
Unicorns trailer
3:30 p.m.: Onward to Calgary, dir. Jim Ether
When Jimmy's public access show, "Poem Time," becomes the victim of corporate underwriting, Jimmy decides to travel to Calgary to go hang out with friends. But what he doesn't know is that his every move is being videotaped by the mysterious Susan. And then the surreal fun really begins.
Shown with I Dream In Stereo, dir. Ken Glaser.
5:00 p.m.: Altamont Now, dir. Joshua von Brown
Mark Clark is an investigative journalist who penetrates the underground world of rock revolutionaries who literally live under the ground of the California desert and the site of the notorious '60s Rolling Stones concert. This is what happens when the youth really stage a revolution. (Read the review) (Watch online)
Shown with The Pipe, dir. Dan Brown.
5:30 p.m.: Pop Skull, dir. Adam Wingard (Watch online)
See March 21, 9:45 p.m. for more info.
7:00 p.m.: Spine Tingler! The William Castle Story, dir. Jeffrey Schwarz
This documentary finally gives cinema pioneer William Castle his due. He's the guy who "invented" innovative movie gimmicks like "the tingler," selling life insurance policies before horror movie screenings, passing an inflatable skeleton over moviegoers' heads, seeing "ghosts" in a film via special cellophane viewers and installing a "Coward's Corner" in theaters. Great stuff. The documentary features interviews with Castle fans such as John Waters, Joe Dante, John Landis, Leonard Maltin and Roger Corman.
Shown with Adam, Vampire., dir. Travis Jackson.
7:30 p.m.: "You're So Not Serious"
Westsider, dir. Charles Doran (Read the review)
Ivory Bastards Against Extinction!, dir. Jonathan Case
Torsten Kretchzmar: I Know What Girls Like, dir. Steffen Frech (Watch online)
Extraordinary House Fix-Up
The Basement
The Monster Within
Spudnik
My Name is Pochsy: An Industrial Film
2000 Man, dir. Marc Leitzel
9:30 p.m.: Who Is KK Downey?, dirs. Darren Curtis & Pat Kiely
A failed writer gets his friend, a failed rock star, to pose as an impossibly hip, pretentious and literary superstar. Based loosely on the whole J.T. Leroy scandal. (Watch online)
Shown with 101 Salvations, dir. Jon Sajetowski
9:45 p.m.: The Road to Nod, dir. M.A. Littler
After finding religion in the clink, former criminal Parrish hopes to similarly reform his former partners in crime, but instead finds himself on the road to a place where peace, not violent gang warfare, resides. And that road would be to Nod.
Shown with The Mutt and Mister Man, dir. Seth Stewart; and Hastings Street, dir. Larry Kent.
11:55 p.m.: Il Bosco Fuori (The Last House in the Woods), dir. Gabriele Albanesi
Two women are viciously assaulted by a group of thugs in the forest and are rescued by a kindly motorist passing by. Except, they aren't really "rescued" as they are prepared to be the next meal for a creepy vampire child.
Shown with subtItles, dir. Efe Oztezdogan.
March 23
1:45 p.m.: "Earthworms in Space"
SpaceDisco One, dir. Damon Packard (Watch online)
Moon Cake, dir. Marty Stano
mono.nucle.osis
Dear Alphabet
Blood of the Earthworm, dir. Brittany Gravely
2:30 p.m.: Spine Tingler! The William Castle Story, dir. Jeffrey Schwarz
See March 22, 7 p.m. for info.
3:30 p.m.: "Staring into the Abyss"
Little White Flowers, dir. Christopher Messina
Son, dir. Daniel Mulloy
Mr. Fisher
Whirlybird
Square Pegs
Lump, dir. Faye Jackson
Exoskeleton
5:15 p.m.: "Insert Title Here"
Runa's Spell
An Even Briefer History of Time
counting contro
The Ambient Medium
this is not an anchor, this boat is not an anchor
Mysterieuse
Darling
Covered Tracks, dir. Nathan Kensinger
Neighbor
Invoice
Butterfly Dream
5:30 p.m.: Underbelly, dir. Steve Balderson
Ever wonder whatever happened to '80s punk icon Pleasant Gehman? Even if you didn't, she has transformed herself into Princess Farhana, the acclaimed bellydancer. This documentary is her story, as well as an in-depth look at the art and what it takes to be a professional bellydancer anyway.
8:30 p.m.: Otis, dir. Tony Krantz
Can't a serial killer just take a date to the prom? Ok, Otis' "proms" are just an excuse to kill his lovely victims and his latest "date" turns out to be more trouble than she's worth. As she manufactures her escape, her family gets fed up with an ineffectual FBI agent who's supposed to be helping them and takes matters into their own hands. Featuring an all-star lineup including Daniel Stern, Ileana Douglas, Kevin Pollak and Tracy Scoggins. P.S., if the director's name sounds familiar he's a producer on 24, one of my favorite TV shows.
For more information, please visit the official BUFF site.