2008 Atlanta Underground Film Festival: Award Winners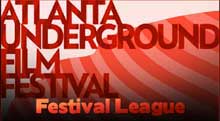 The fine folks over at the Atlanta Underground Film Festival have sent me their list of 2008 award winners, which you can check out below. The festival was held back on Aug. 20-24. Congrats to all the winners, but I'm especially thrilled that some of my favorite films of this year have won awards. These include Joshua Von Brown winning Best Director for Altamont Now (Watch online), a film that is killing on the underground circuit this year. Also, Brian Lonano's awesome Attackazoids! won the award for Best Sci-Fi Short. Plus, over at the concurrent DocuFest 2008, Georg Koszulinski also won Best Director for the sad and beautiful Immokalee, USA.
The awards list below is broken into three sections. First are the main 2008 AUFF winners, followed by the DocuFest 2008 and the Animation Attack! 2008 awards:
2008 AUFF Award Winners:
Best Narrative Feature
Sex Galaxy
Dir. Mike Davis
(Watch Sex Galaxy streaming online)
Best Comedy Feature
Wiener Takes All
Dir. Shane MacDougall
Best Horror Feature
Blood on the Highway
Dir. Barak Epstein
Best Documentary Feature
Song Sung Blue
Dir. Greg Kohs
Best Foreign Feature
Cuba-libre
Dir. Rai Garcia
Best Local Feature
Loaded Guns
Dir(s). Eli Banks, Julian Modugno, Jamie Garr
Best Animated Feature
John's Arm: Armageddon
Dir. Matty Boy Anderson
Best Director
Joshua von Brown
Altamont Now
(Watch Altamont Now streaming online)
Best Musical Score
More Shoes
Dir. Lee Kazmir
Audience Choice Award
1000 Journals
Dir. Andrea Kreuzhage
Best Short Film
God of Tears
Dir(s) Max Margulies and Naoko Masuda
Best Foreign Short
El Viaje de Said
Dir. Coke Rioboo
Best Narrative Short
The Adventure
Dir. Mike Brune
Best Experimental Short
An Indefinite Meandering of Words Left Unsaid
Dir. Lexi Lefkowitz
Best Sci-Fi Short
Attackazoids!
Dir. Brian Lonano
(Watch Attackazoids! streaming online)
Best Horror Short
A Break in the Monotony
Dir. Damien Slevin
Best Documentary Short
Returned: Child Soldiers of Nepal's Maoist Army
Dir. Robert Koenig
Best Short Short
Transrexia
Dir. Voltaire
Best Local Short
Panels for the Walls of Hell
Dir. Blake Myers
2008 AUFF the Wall Award
Karaoke Show
Dir. Karl Tebbe
2008 DocuFest Award Winners:
Best Documentary
More Shoes
Dir. Lee Kazmir
Best Foreign Documentary
Un Poquito de Tanta Verdad
(A Little Bit of So Much Truth)
Dir. Jill Freidburg
Best Comedy Documentary
Wiener Takes All
Dir. Shane MacDougall
Best Drama Documentary
Calavera Highway
Dir. Renee Tajima-Pena & Evangeline Griego
Best Musical Documentary
Song Sung Blue
Dir. Greg Kohs
Best Director
Georg Koszulinski
Immokalee, USA
Most Inspirational Documentary
Love Limits
Dir. Thymaya Payne
Audience Choice Award
What Are We Doing Here?
Dir.(s) Brandon, Nicholas, Daniel & Tim Klein
Best Documentary Short
Heroes, No Hacen Falta Alas Para Volar
(Hero, Wings Are Not Necessary to Fly)
Dir. Angel Loza
Best Experimental Documentary Short
Teslamania
Dir. Joel Schlemowitz
Animation Attack! 2008 Award Winners:
Best Animated Short
Golden Age
Dir. Aaron Augenblick
Best Foreign Animated Short
Orgesticulanismus
Dir. Mathieu Labaye
Best Student Animated Short
God of Tears
Dir.(s) Max Margulies, Naoko Masuda
Best Local Animated Short
Maniacal
Dir. Em Kempf
Best Local Student Animation Short
Curtains
Dir. Amanda Goodbread
Best Dramatic Animated Short
Germans in the Woods
Dir. Tim Rauch
Most Impressive Animation Technique
Muto
Dir. BLU
Animation Attack! Audience Favorite
Marvelous, Keen, Loony Bin
Dir. Lizzi Akana
You can also check out the list on the official AUFF site.