2008 Arizona Underground Film Festival: Official Lineup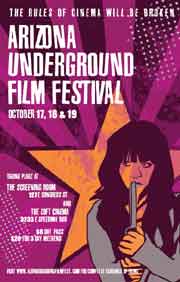 The 2008 Arizona Underground Film Festival is the second brand new underground fest to launch this year. The other was Minneapolis in August. And, like Minneapolis, it's an ambitious and impressive one. It's going to run three nights on Oct. 17-19 in Tucson at two different theaters: The Screening Room and the Loft Cinema. Plus, there's parties and awards and lots of filmmakers in attendance, so it's going to be a rockin' time I can tell.
Started by former zine publisher David Pike, the inaugural AUFF is screening a whole bunch of Underground Film Journal favorites. Opening the fest is one of my favorite movies this year, Joshua von Brown's rock 'n' roll apocalypse Altamont Now, an amazingly fun piece of work featuring a star-making performance by lead actor Daniel Louis Rivas. Also on opening night is Australian wunderkind Kenta McGrath's spooky and sad Welcome to Pipe Mountain. Plus, here's an interview I did earlier this year with David about the fest.
The rest of the fest is a neat mix of features, shorts and music videos. Please check out the AUFF site to see at which theater which group of films is screening. (If you see odd time jumps in the schedule below, that's because it's at a different theater.) But here's the lineup:
Oct. 17
6:15 p.m.: Altamont Now, dir. Joshua von Brown. Mark Clark is an investigative journalist who penetrates the underground world of rock revolutionaries who literally live under the ground of the California desert and the site of the notorious '60s Rolling Stones concert. This is what happens when the youth really stage a revolution. (Read the review)
7:30 p.m.: Welcome to Pipe Mountain, dir. Kenta McGrath. A depressed dude might accidentally find salvation when he bungles hanging himself at a popular wooded destination for suicides. (Read the review)
7:55 p.m.: One Last Shock, dir. Adam Paradis
9:00 p.m.: "Creepy" – The Mission Creeps, dir. Gene Torres
9:04 p.m.: Puppet, dir. Patrick Smith (Watch online)
9:10 p.m.: Excision, dir. Richard Bates, Jr. (Watch online)
9:30 p.m.: Bonnie & Clyde vs. Dracula, dir. Timothy Friend. The notorious bank robbers run into the legendary vampire.
Oct. 18
2:00 p.m.: Left/Right, dirs. Todd H. Wolfe & Matthew Wolfe. A ladder-climbing yuppie is forced to return to the childhood home where they try to knock him off his high horse.
4:00 p.m.: Bird, dir. Melanie Brunt
4:05 p.m.: Silence Ca Tue!, dir. Christophe Lamot. A struggling Belgian director decides to make a movie for no money by shooting in true guerrilla cinema fashion. (Read the review)
5:30 p.m.: Gold, dirs. Bill Desloge & Bob Levis. This mostly forgotten classic from the '60s features Del Close leading a communal town on its search for gold.
7:20 p.m.: AM1200, dir. David Prior
8:00 p.m.: Dead Bones, dir. Olivier Beguin
8:20 p.m.: If God Was a DJ, dir. John Silverstone
8:25 p.m.: "Attack of El Gato" – Katz Karnaby, dir. Gene Torres
8:28 p.m.: "Logical Disorder" – Grey Matter, dir. Eduardo Rhoppe
8:35 p.m.: Dyer, dir. Alexandr Kazakov
9:35 p.m.: Cam2Cam, dir. Davy Sihali
10:00 p.m.: Unspeakable, dir. Marc Rokoff. A portrait of Steven Johnson Leyba, who is also a performance artist and painter — and likes to paint with his own feces and blood.
11:40 p.m.: (spek.ter), dir. Terrence Kelsey
12:00 a.m.: Genital Genocide, dir. Doug Gehl
12:13 a.m.: Hook-Nose, dir. Steven Strauss
9:00 p.m.: The Heart Is a Hidden Camera, dir. Gabriel Judet-Weinshel
9:12 p.m.: Bulb, dir. David Collins
9:18 p.m.: Exhibit A, dir. Erik Scanlon
9:25 p.m.: Death of the Reel, dir. Benjamin Meade (Read the review)
9:30 p.m.: Dark Reel, dir. Josh Eisenstadt. A horror movie fan's dream of being cast in a gory film becomes a nightmare when he's accused of killing one of the main actors.
Oct. 19
1:00 p.m.: Buster, dir. Lovisa Inserra. A down-on-his-luck loser only gets satisfaction in life when he's able to convince complete strangers into pummeling him to within an inch of his life.
2:12 p.m.: "Good Morning, Herr Horst" – Mando Diao, dir. Lovisa Inserra
2:25 p.m.: Fan Mail, dir. Sean Christensen
2:30 p.m.: The Human Condition, dir. Alan Williams
2:45 p.m.: Bloodlust Horror, dir. Aaron Potter. When a small Arizona town is overrun with vampires, the mayor calls in a specialist to kill them and save his daughter.
3:45 p.m.: D.O.P.E., dir. Chris Aherns. A documentary about four legendary skateboarders: Jay Adams, Christian Hosoi, Dennis Martinez and Bruce Logan. Narrated by Danny Trejo.
4:45 p.m.: The Art of Pain, dir. Matt Brookens. A lazy movie theater usher has his life challenged by a local ninja-in-training.
For more info, please visit the official AUFF site.