2008 Arizona Underground Film Festival: Award Winners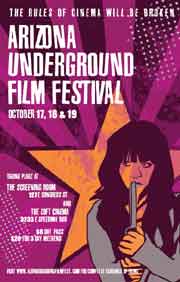 The first ever Arizona Underground Film Festival, which was just held this past weekend on Oct. 17-19, gave out a slew of awards to several feature films and shorts.
Topping the list, of course, is Joshua von Brown's Altamont Now. This film deserves every award it can get its bloody punk rock hands on, I tell you. Including Arizona, the film also played at two other festivals this past week and will be screening in NYC next week. I'll have the full details about that soon.
Also winning an award is an Underground Film Journal favorite, Excision by Richard Bates Jr., which I just raved about in this compilation of Spooky Movie Film Festival reviews.
So, special congrats to Josh, Richard and Marc, but really congratulations to all the winners:
Best Narrative
Altamont Now, dir. Joshua Von Brown (Read the review)
Best Narrative Short
The Heart Is a Hidden Camera, dir. Gabriel Judet-Weinshel
Best Horror Feature
Bonnie & Clyde vs. Dracula, dir. Timothy Friend
Best Horror Short
Excision, dir. Richard Bates Jr. (Watch online)
Best Documentary
Unspeakable, dir. Marc Rokoff
Best Animation
Puppet, dir. Patrick Smith (Watch online)
Best Music Video
Mission Creeps "Creepy," dir. Gene Torres
Best Experimental
Death of the Reel, dir. Benjamin Meade (Read the review)
Best of the Fest
Dark Reel, dir. Josh Eisenstadt
Audience Award
Left/Right, dir. Matthew Wolfe
Juror Award
AM1200, dir. David Prior
For more info, please visit the official AUFF site.