Movie Review: 2007 Movie of the Year: Wanted: New Talent! The Walt Gollender Story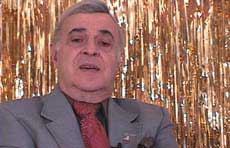 On the one hand, I knew within the first 10 minutes of watching what my Movie of the Year pick was going to be this year. It was that strong of a film. But, at the same time I also had a lot of really impressive runners up. This was really a banner year. The site's running at full steam and I've had lots of folks let me look at some really tremendous features, shorts, documentaries, experimental, you name it. If this is the trend, I'm probably going to have a tough time picking just one film out of the pack in years to come. But, this year I do have one, but first let's take a look at the runners up:
While my main Movie of the Year is a feature, the two big runners up are shorts. First is Andrew Semans' All Day Long, a quiet, understated look at teen love, or, at least infatuation. Beautifully shot in the backwoods of New Jersey, we get to witness a guy and a girl having to deal with their first mature relationship. The second runner-up is Martin Hansen's Paradise Drift, an experimental film that's more questions than answers. Villagers gather and trek over a rocky terrain in the night. Why? I couldn't tell you and the mystery is the film's charm and source of haunting images.
Other honorable mentions: It Is Fine! EVERYTHING IS FINE., dir. Crispin Glover; Random Lunacy: Videos From the Road Less Traveled, dir. Victor Zimet & Stephanie Silber and Trionyx (Soft-Shelled Turtle), dir. Nick Childs. But, really, thanks to everyone who sent in films this year.
And now, the moment everyone's waited a whole year for. The 2007 Underground Film Journal Movie of the Year is: Mike Z's Wanted: New Talent! The Walt Gollender Story. This is also the most simply shot film I've seen year. Basically, it's just a close-up of the film's subject, Walt Gollender, as he relates the epic story of his life as a struggling songwriter and talent scout in New Jersey from the early '60s to the present. However, the depths of Walt's story and the background of the filmmaker make this a highly complex documentary.
Mike Z is, of course, nefarious for his fake documentaries, or as he calls them "hoaxes." This time, though, Mike insists to me that Walt is a real guy and this film is a real documentary. I'm going to take Z at his word on this, but part of me is always going to be suspicious that he's pulling another one of his fast ones. That's just another element that elevates this particular film.
Walt, whether he's real or not, is a fascinating character. He seems like the kind of guy that probably has three or four movies in him if he were to elaborate in more detail on the stories of his life. And he seems like the kind of guy who would love to be asked to elaborate. The film doesn't need many more visuals other than the same shot of Walt. He's a vivid storyteller with an uncanny ability to vividly describe the places he's lived and worked and the people he's hung out with. Shit, I couldn't describe to you the neighborhood I live in now. Walt, on the other hand, can call up places he drove by while having a conversation forty years ago. I was totally enraptured by his story from beginning to end.
Now I've only picked a Movie of the Year two other times before. Once in 2002, which was Giuseppe Andrews' In Our Garden, and again in 2006, which was Waiting for NESARA, directed by Zeb Haradon. While Wanted: New Talent! is a great film thanks to Mike Z picking the perfect subject, coaxing him through a fascinating narrative and setting the awesome tone for the film, I can't help feel a little bit that I'm not picking a Movie of the Year but a Person of the Year. The film fits perfectly into the Mike Z filmography, but the movie totally belongs to Walt Gollender, whoever he is. Who he is to me is the star of the most confounding, perplexing and consistently engaging film I've seen all year. And if you want to check out my original review of the film, you can read it here.