2007 Chicago Underground Film Festival: Screening Added!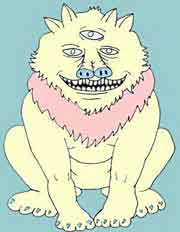 The opening night film of this year's Chicago Underground Film Festival, Tim Kinsella's Orchard Vale, has proved to be so popular that CUFF has added a second screening. If you weren't able to get tickets to the Sold Out 8 p.m. show this Wednesday, Aug. 15, there is now a 10:00 p.m. show as well. You can buy tickets here. Tim's own description of the film is:
"Orchard Vale raises more questions than it can possibly answer. Much of the story is told in between the moments other movies would have probably shown to tell the same story. This is done to invite the viewer to become an active participant, hopefully prompting the audience to expand upon the questions it raises. In a way, it might be like Planet of the Apes without the apes and in a different way like a zombie movie without the zombies."
Also regarding the film, Movie City Indie's Ray Pride has a long interview with Tim Kinsella about Tim's music career and his transition into filmmaking. Another quote from Tim:
I don't get the impression it was ever very easy to make a living as a musician. By the late nineties, I saw my life as potentially fitting into the historical archetype of traveling bard far more so than any aspirations towards rockstardom.
Finally, here's the trailer for the film: