2007 Chicago Underground Film Festival: Official Lineup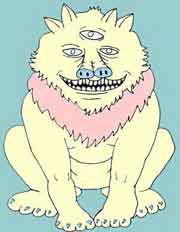 Oh, Momma! The 14th annual Chicago Underground Film Festival has posted up their lineup and it looks to be a doozy. Five days of non-stop underground madness, running Aug. 15-19 at two separate locations: the Chopin Theater and the Elegant Mr. Gallery. It's massive and mind-blowing, which is business as usual for festival director Bryan Wendorf and his crew.
The lineup of films is below, obviously. Why the hell else would you be reading this? But just a couple of very special programming notes, i.e. some of the nice folks who sent films in to review on the Underground Film Journal get a special mention, of course. First up All Day Long, the amazing short film by Andrew Semans that I rave reviewed here. It's playing on the 17th at 7:45 p.m. during the "A Squeeze of the Hand" shorts program. Equally impressive is Mr. Young's engrossing documentary East 3 (sterling review here), which will be playing on the 19th at 6:30 p.m. Don't miss either of them!
Aug. 15
8:00 p.m.: Orchard Vale, dir. Tim Kinsella. Opening night film! World premiere! In the not-so distant future, five folks struggle to survive in a decaying suburban town. All of life's modern conveniences are obsolete and raging human nature takes over.
10:00 p.m.: Orchard Vale, dir. Tim Kinsella. SECOND SCREENING ADDED!
Aug. 16
6:00 p.m.: The GoodTimes Kid, dir. Azazel Jacobs. Two guys with the same name. One girl. Get to it. P.S. Azazel is the son of legendary underground filmmaker Ken Jacobs (Little Stabs at Happiness).
6:15 p.m.: "The First Lowering." Shorts.
Maximizing the Flat Plane, dir. James Magrini
Invisible City, dir. Jack Cronin
Of Kin and Kind, dir. Iris Shim
Sunset Coda, dir. Kent Lambert
Helen A/B + Das Meer (Helen A/B + the Sea), dir. Sabine Marte
731: Two Versions of Hell, dir. James T. Hong
7:45 p.m.: Celluloid #1, dir. Steve Staso. A pretentious director and a spoiled actress meet to talk about their lives and their future dreams and aspirations. Of course, their egos get in the way of any human interaction.
8:00 p.m.: Everybody Is Hurting, dir. Richard Sandler. A documentary filmed in NYC's Union Square on 9/11 and on the days afterward. (Hey, maybe I'm in it!) Preceded by On Deaf Ears, dir. Josiah Bultema
9:30 p.m.: Each Time I Kill, dir. Doris Wishman. World Premiere! The last film from the late, great exploitation director. A female high school student who acquires one physical trait of every person she murders.
9:30 p.m.: Milk in the Land, dirs. Ariana Gerstein & Monteith McCollum. Everything you ever wanted to know about moo juice. (And probably some icky things you don't).
Aug. 17
6:00 p.m.: "Cutting In." Shorts.
Bliss, dir. Robert Todd
July Fix, dir. Jason Livingston
Tower Crane, dir. Won Tae Seo
Lions and Tigers and Bears, dir. Rebecca Meyers
Zwischen, dir. Lori Felker
This Is My Land, dir. Ben Rivers
This Is Not an Anchor, This Boat Is Not an Anchor, dir. Marianna Milhorat
Nature Mature, dir. James Kienitz Williams
6:00 p.m.: The Description of Bankruptcy, dir. Kang-hyun Lee. You think you're having trouble living in debt? Try living in South Korea! Preceded by Table, Bed, Chair, dir. Robert Hack
7:30 p.m.: Thax, dir. Alex MacKenzie. A documentary portrait of the unique Chicago poet, who found his calling at 14-years-old and continues to this day with gray in his beard and after thousands of performances.
7:45 p.m.: "A Squeeze of the Hand." Shorts.
Ask the Insects, dir. Steve Reinke
Untitled Film, No. 9, dir. David Butler
Christmas in Huddersfield, dir. Peter Spence
Boxcartoon, dir. Matt Marsden
Hands and Body, dir. Rachel Walker
Nocturne, dir. Mary Benedicto & Garman Herigstad
The Glass, dir. David Fine
Hotel Lights – A.M. Slow Golden Hits, dir. Myke Adams
Regarding the Pain of Susan Sontag (Notes on Camp), dir. Steve Reinke
All Day Long, dir. Andrew Semans (Read the Underground Film Journal movie review.)
9:30 p.m.: Viva, dir. Anna Biller. In this tribute to '70s sexploitation movies, a secretary gets involved in the bohemian lifestyle — including drugs and free love — after her husband splits.
9:30 p.m.: Hooks to the Left, dir. Todd Verow. Shot entirely on a cell phone, this experimental narrative follows a male hustler who takes up prostitution again after his recent relationship ends.
Aug. 18
1:00 p.m.: "Midnight Aloft." Shorts.
Orbit, dir. Kerry Laitala
Fading Star, dir. John Standiford
!Las Historias Mas Sexy Deli Mundo! Number 2, dir. Eric Cheevers
Blood of the Earthworm, dir. Brittany Gravely
1:15 p.m.: "Surmises." Shorts.
Dan, dir. Angel Vasquez
Terra Verde, dirs. Meredith Root & Matt Cook
Counting Control, dir. Marie Ullrich
The Passenger, dir. Kathryn Ramey
Pledge, dir. Ann Steuernagel
Three Sides of Pi, dir. Tony Gault
Antarctic Territory 2004, dir. Sarah Buccheri
Valery's Ankle, dir. Brett Kashmere
2:30 p.m.: Off the Grid: Life on the Mesa, dirs. Jeremy and Randy Stulberg. A documentary about a unique commune of hippies and war veterans.
2:45 p.m.: Begging Naked, dir. Karen Gehres. A documentary profile of Elise Hill, who left an abusive home as a teenager and took up prostitution to survive on the streets. However, after successfully completing rehab and taking classes at the Art Student's Leauge, she started supporting herself through her art. (Stream this underground movie online)
4:00 p.m.: "All Asti." Shorts.
Earth's Shadow, dir. Huckleberry Lain
When the Light's Red, dir. Keith Wilson
Welcome to Normal, dir. Marianna Ellenberg
Phantom Canyon, dir. Stacey Steers
Sonic Youth: Do You Believe in Rapture?, dir. Braden King
Survivor Cook, Islands, Abridged, dir. Jenny Stark
Startle Pattern, dir. Eric Patrick
Black and White Trypps Number 3, dir. Ben Russell (Watch this underground movie streaming online)
4:30 p.m: The Sky Song, dir. James Fotopoulos. A new feature-length experimental work by underground staple Fotopoulos, an Underground Film Journal favorite director.
6:00 p.m.: Llik Your Idols, dir. Angelique Bosio. A documentary about the Cinema of Transgression movement of NYC, which included filmmakers like Richard Kern, Lydia Lunch, Joe Coleman and Nick Zedd.
7:00 p.m.: "His Mark." Shorts.
The Hesher, dir. Scott Cummings
Internet Alphabet, dir. Joe Nanashe
New York Story, dir. Nicolas Jenkins
Lightning Bolt – Vile House, dir. Harvey Benschoter
The Wilson Street Connection, dir. Andrew Hicks
Hasha Royko, dir. Miranda July
Alla te Alcanzo (I'll See You There), dir. Luis Sanchez Ramirez
The Drift, dir. Kelly Sears
It Will Die Out in the Mind, dir. Deborah Stratman
Energie!, dir. Thorsten Fleisch (Watch this underground movie streaming online)
Bye Bye One, dir. NotTheSameColor
Playing Alive, dir. Mike Olenick
8:00 p.m.: Hell on Wheels, dir. Bob Ray. A documentary about the roller derby gangs of Texas. (Stream this underground movie online)
8:30 p.m.: "A Bosom Friend." Shorts.
Ears + Tone, dir. Les Stuck
Paul and the Badger: Episode 2, dir. Paul Tarrago
Baba Boom Boom, dir. Usama Alshaibi
Celebration – New Skin, dir. Bump Stadelman
I Am Dancin Where You Can See Me, dir. Iain Bonner
IV.6, dir. Mike Winkelman
An Okinawa Postcard, dir. Stephen Combs
Casualties of War, dir. Alejandro Torres (Read the Underground Film Journal movie review.)
We're Going to the Zoo, dir. John Safdie
I'm Keith Hernandez, dir. Rob Perri (Watch this underground movie streaming online)
10:00 p.m.: Go Go Motel, dir. Dan Bell. Your bartender, Douglas, at the Boots Saloon takes you on a degenerate journey into the bowels of the Eastwood Inn Motel, a haven of prostitution and obscene acts.
10:00 p.m.: Bacchanale, dirs. John Amero, Lem Amero. From 1970 comes this lost classic "dirty" arthouse film with lots of sex and lots of trippy visuals; plus a new soundtrack curated by Sam Zimmerman.
Aug. 19
1:00 p.m.: "The Spirit Spout." Shorts.
Interplay, dir. Robert Todd
930, dir. Alexandre Larose
Die Entnazifizierung Des MH (The De-Nazification of MH), dir. James T. Hong
The Magician's House, dir. Deborah Stratman
Elizabeth Short, dir. Deco Dawson
Magnavoz, dir. Jesse Lerner
2:45 p.m.: Random Lunacy: Videos from the Road Less Traveled, dirs. Victor Zimet, Stephanie Silber. Closing Night Film! David Pearlman isn't your average dad. Renaming himself Poppa Neutrino, he refuses to "settle down" and travels the world with his band with his family in tow from one haphazard adventure to another. Yes, it's a documentary, i.e. a collage of videos made by Poppa Neutrino himself. (Read the Underground Film Journal documentary review)
Preceded by No Man's Language, dir. Dana Levy.
3:00 p.m.: Revolution Summer, dir. Miles Montalbano. Three young people search to find meaning in their lives over one summer, including a lonely gal and her new friends: a pseudo-revolutionary and a disillusioned hedonist. (Stream this underground movie online)
5:00 p.m.: "Galaxian." Shorts.
Galaxian, curated by Rebecca Myers
Rehearsals for Retirement, dir. Phil Solomon
Untitled (For David Gatten), dir. Phil Solomon & Mark LaPore
And We All Shine On, dir. Michael Robinson
4:45 p.m.: Urban Explorers: Into the Darkness, dir. Melody Gilbert. A documentary about people who explore uncharted urban territory, including underground tunnels and an abandoned mental hospital.
6:30 p.m.: East 3, dir. Mr. Young. A documentary profiling the cold, remote town of Inuvik, which is in Canada's Northwest Territories, where traditional ways of life meet modern social problems. (Read the underground movie review.)
6:45 p.m.: Blood Car, dir. Alex Orr. In the future when gas costs $40 a gallon (that can't be too far off, can it?), an amateur scientist discovers a new fuel source. Now, look at the title of the film and guess what that source could be. Preceded by Disarm, dir. Jack Hammond.
8:00 p.m.: La Trinchera Luminosa del Presidente Gonzalo, dir. Jim Finn. Closing night film! A day in the life of a Peru women's prison circa 1989 where the female prisoners are psychologically tortured by a sadistic warden and guards.
And, as always, please visit the official CUFF site for more info.