2007 Atlanta Underground Film Festival: Official Lineup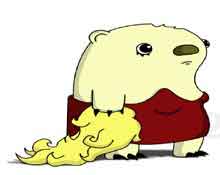 It may not run for another full month, but the Atlanta Underground Film Festival has already posted up their full lineup. Screening August 22-25, AUFF has a nice mixture of feature films and shorts that will be playing at venues all over the city, from East Atlanta to Little Five Points & Ponce. Of course, I've never been to Atlanta, so I don't know what that means, but it sounds impressive. In addition to the films, they'll have shows by live bands, plus lots of late-night parties. Sounds like a major event.
One special program note: On the last night of the fest, the "Drama: Program One" shorts lineup will lead off with Andrew Semans' brilliant All Day Long, which you can watch streaming online here. Why? Because it's awesome. If you're attending AUFF and you miss this one, then you suck. But, here's all the films that will be screening:
August 22
9:00 p.m.: "Animation Attack: Program One." Shorts. This is just a partial list. Believe it or not.
Kill John Wayne, dir. Vivian Wong (Read the review)
The unAmericans, dir. Darwin Berman, Micah Stansell, Kevin Diggleman
The Greyhound, dir. Allan Plenderleith
Dimension X, dir. Nick Kunin
Adventure Time, dir. Pendleton Ward
Death of a Matriarch , dir. Takuro Masuda
Echoes of Bats and Men, dir. Jo Dery (Watch online)
Getgot, dir. Bryan Fordney
Harmony, dir. Jim Trainor
Sinking of the Hunly, dir. Drew Christie
Long Journey on the Arms of Death, dir. Xander Marro
Together We Ride, dir. Kevin Hooyman
Waif of Persephone, dir. Nick Cross
Pirate Baby's Cabana Street Fight 2006, dir. Paul Robertson
China Zoetrope, dir. Amber Boardman
Space War, dir. Christy Karacas
Bar Fight, dir. Chrity Karacas
Puppet, dir. Patrick Smith (Watch online)
Wunderground, dir. Leif Goldberg
One Dog Walking, dir. Sara Spink
Ape Shit, dir. Bob Ray
August 23
8:00 p.m.: "Local Shorts." Shorts.
How to Meet Your Favorite Reality TV Stars in Five Easy Steps, dir. Kyle Kyser
Ignore, dir. Michael Palma
Moustache Rifle Vignette, dir. Ian Cone
Russell Baby, dir. Andrew Treglia
The Street Cleaner, dir. Nathaniel Nauert
The Procession, dir. Tom Rittenhouse
Me and My Bot, dir. Julian Modugno and Jamie Gaar
8:30 p.m.: Sons of Saturn, dir. Joao Machado. Real home video footage has been appropriated to tell the fictional story of a family that goes from rags to riches and back to rags again.
9:30 p.m.: Nailed!, dir. Sheldon Schiffer. Branca is a Brazilian immigrant currently living in Atlanta who needs a green card to stay in the country. Patrick is the con man who says he'll help her out. For a price.
August 24
4:30 p.m.: Moonlight & Magic, dir. Timothy Spanos. A woman with diabetes goes on a cross-country trip with her mohoawked boyfriend to find a place to call home and meets various interesting people, including a brain-damaged nudist and a breast cancer survivor.
6:20 p.m.: Dirty Habit, dir. Bryan Root. So, a nun and a prostitute get into an elevator… Sounds like the setup for a joke, but this is a dark thriller.
7:30 p.m.: Cracker Crazy: The Invisible Histories of the Sunshine State, dir. Georg Koszulinski. A unique history of Florida as seen through it's more unusual characters, including Osceola and the Seminoles, KKK members, Walt Disney and Henry Flagler. (Read the underground movie review)
8:15 p.m.: Viva, dir. Anna Biller. In this tribute to '70s sexploitation movies, a secretary gets involved in the bohemian lifestyle — including drugs and free love — after her husband splits. Won the 2007 Boston Underground Film Festival award for Best of Fest (Feature). Also played at this year's New York Underground Film Festival and San Antonio Underground Film Festival.
8:30 p.m.: Music Industry A – Z, dir. Sean Crawford. Want to break into the music industry? This documentary will tell you how, not in a cheap infomercial kind of way, but in a "that's some hard work" kind of way. Featuring interviews with Sean Paul, Swizz Beatz, Fat Joe, Slim Thug, Pitbull and Jadakiss. (I've heard of about half those guys.) Also screening with:
The Hiphop Nation: A Conversation Inspired by the Teachings of KRS-ONE, dir. Russel Gottschalk. Covering legendary rapper KRS-ONE's Gospel of Hiphop, which was delivered in Atlanta on April 16, 2005.
8:30 p.m.: "Comedy Shorts." Shorts.
Carboy: The Five-Seater with a Heart of Gold, dir. Jamie Gaar, Amber Dixon, Julian Modugno
Chester's Battle, dir. Matthew Heinze
The Chronicles of Impeccable Sportsmanship, dir. Erika Tasini
Hobo Man, dir. Johnny Dingleberry
I Stepped In Some Poo, dir. Tristan Orchard
Mild People in Aggressive T-Shirts, dir. Lyn Elliot
Pets As Partners, dir. Rebecca Adler and Margaret Salzer
Phone Sex Grandma, dir. Jack Truman
9:15 p.m.: The Short Life of Jose Antonio Gutierrez, dir. Heidi Specogna. A documentary about the first casualty in the Iraq War, a Latino immigrant from Guatemala who joined the Marines to become a U.S. citizen.
10:30 p.m.: "The AUFF Sex Show." Shorts.
Afternoon Sweets, dir. Anna Butwell
The Boy Princes: A Tragedie Most Monstrous, dir. Darren Herczeg
Filthy Gorgeous, dir. Kyle Hinshaw
Gary's Touch, dir. Ken Takahashi
Kill John Wayne, dir. Vivian Wong (Read the review)
Phone Sex Grandma, dir. Jack Truman
Whore, dir. Isabelle Mcewen
12:00 a.m.: Special AUFF Screening TBA
The Rocky Horror Picture Show, dir. Jim Sharman. No description necessary. And feel free to dress up like your favorite character.
August 25
2:30 p.m.: "Sci-Fi & Horror Shorts." Shorts.
Agnieszka 2039, dir. Martin Gauvreau
By Appointment Only, dir. John Faust (Read the review)
Electrical Skeletal, dir. Brian Lonano
Hank's Auto Repair, dir. Matthew Stawski (Watch online)
Happy Birthday 2 You, dir. David Alcalde
The Boneworm Shrine, dir. Justin Jones
The Last Man in Brooklyn, dir. Roberto Bentivegna
4:15 p.m.: "Shorts From Spain." Shorts.
Antes Y Despues de Besar a Maria (Before and After Kissing Maria), dir. Ramon Alos
Boletos Por Favor (Tickets Please), dir. Lucas Figueroa
Dos Veces (Twice), dir. Joseba Fuentes
El Canto del Grillo (The Song of Cricket), dir. Dany Campos
Josef M., dir. Juan Antonio Pascual Albarranch
La Parabolica (The Parabolic Dish), dir. Xavi Sala
Mimoune, dir. Gonzalo Ballester
6:00 p.m.: "International Shorts." Shorts.
At Sea There Is No Haven, dir. Wim Jongedijk
Recognize Myself, dir. Eva-Marie Elg
Softly, dir. Lisa Kennedy
Sub Sectio, dir. Wim Jongedijk
To Die Is to Live, dir. David Sarkissian
White Blue Air, dir. Inza
Whore, dir. Isabelle Mcewen
7:45 p.m.: "Experimental Shorts." Shorts.
America in Pictures, dir. Georg Koszulinski (Watch online)
Everything I Know About Drugs I Learned From Hollywood, dir. Elina Shatkin
Help is Coming, dir. Ben Mor
Last Request, dir. Neil Ira Needleman
Love City Review, dir. Eric Potter
Passage, dir. Peter Byrne, Carole Woodlock, Allan Schindler
Stable, dir. John Orentlicher
8:30 p.m.: "AUFF Best in Show Shorts!" Shorts. Lineup TBA.
9:00 p.m.: "Animation Attack: Program Two." Shorts. Same films as in Program One (above), plus 90 minutes more of films added.
9:00 p.m.: "AUFF Drama: Program One." Shorts.
All Day Long, dir. Andrew Semans (Watch online)
Baby Foot, dir. Matthew Park
Hoopla, dir. Scott Balzer
Twitch, dir. Leah Meyerhoff (Watch online)
10:00 p.m.: Jason and the Argonauts, dir. Don Chaffey. Yep, they're showing the classic Ray Harryhausen action film with unarguably the greatest stop-motion fight scene ever made.
10:45 p.m.: Freelance, dir. Drew Sawyer. An aspiring investigative journalist strives to find his first big scoop. And if he can't find it, he'll make one up.
10:45 p.m.: "AUFF Drama: Program Two." Shorts.
Baba King, dir. Ryan Jackson
OM, dir. Fredric Reshew
Pretty Dead Flowers, dir. Justin Liberman
Rest Stop for the Rare Individual, dir. Roberto Bentivegna
Whirling Dervish, dir. William Fisher
12:00 a.m.: Blood Car, dir. Alex Orr. In the future when gas costs $40 a gallon (that can't be too far off, can it?), an amateur scientist discovers a new fuel source. Now, look at the title of the film and guess what that source could be.
As always, for venue, party, music and more info, please visit the official AUFF site.