Movie Review: 2000 NYUFF: Day 7, Part 1: Short Films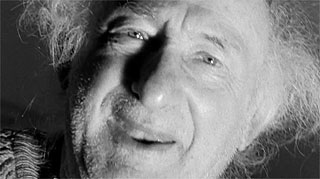 Decided to see three programs of shorts tonight to up my average of films seen per day at the 2000 New York Underground Film Festival. Its also mostly an opportunity to catch up on stuff I missed Saturday.
The first collection was "Reality Styling" which featured four documentaries: an experimental one, a monologue film and two slices of life.
Sunday 10:42 AM, directed by Jonathan Green, was an interesting experiment, but not totally successful for me. It consisted of a real wrong number answering machine message where some kid called to threaten one of his classmates. While the message played, it was acted out by faceless children in a split screen with the answering machine. Funny message, but the acted out part could have been more interesting.
The star of Kingdom of Poet O, directed by Dennis Karsten, is right now talking with some audience members here in the lobby as I write this. He's a nutty old Ed Kotch lookalike with visions of Utopia where everyone is nice to each other. The film is a rapid fire non-stop monologue by Poet O (whatever his real name is), the most interesting part being about his love affair with Albert Einstein when Poet O was a young boy. Besides being a pedophile, I learned that Einstein had "300 theories and three of them turned out to be true." The rest are buried at the bottom of the Dead Sea in Jerusalem.
Watch:
High Rocks, directed by Jason Blalock, is a simple, pleasant documentary about hicks in Oregon jumping off of cliffs into a river. It's a popular vacation spot in the Portland area and every year several people splat themselves open on the rocks alongside and underneath the water. While the filmmaker didn't catch anyone getting snuffed on camera, one kid does break his ankle. Despite, or because of, the danger people keep jumping off the cliffs risking life and limb, yet everyone's real casual about it. Guess you gotta do somethin' living in the middle of nowhere.
Watch:
Forget the TV show Roswell, the WB drama about good-lookin' kids living in the Nevada desert. The Magnificent Andersons, directed by Julie Morrison, is about the real deal, a family of rednecks living near Area 51. The Andersons are a freaky looking bunch all tattooed-up with half-grown scraggly beards. There's Ma and Pa Anderson and their six or seven kids (I lost count) eking out an isolated existence where UFOs are as common as rusted out Cadillacs.
The UFO stories, and just about every Anderson has one, are amusing yet so convincing in the way they are told that you start thinking they might be true. But things take a turn from the amusing to the absolutely frightening when the Andersons, again with an intense conviction, talk about how the government is preparing to declare martial law. Black helicopters are going to swoop out of the sky and drop brown-shirted soldiers into our backyards. Money the color of the rainbow will be used as a global currency. Schools are now being built with no windows and their yards fenced in with the barbed wire on top pointing in.
The Andersons also own a grumpy pig called Mr. Bacon that everyone abuses and they cook their Thanksgiving turkey buried underground. Eccentric bunch to say the least. And excellent subjects for a documentary.
Continue on to 2000 NYUFF: Day 7, Part 2: Short Films