Movie Review: 2000 NYUFF: Day 6, Part 2: Short Films
Funniest short at the 2000 New York Underground Film Festival I've seen is now a toss-up between Meat Fucker and Deep Africa, which I've just watched as a part of a series of shorts called "That's Undertainment!". Deep Africa, directed by Steve Hall and Cathee Wilkins, is told entirely with blow up dolls.
Two models order an alien from deep Africa from a hunter who masturbates with a fish. The alien turns out to be E.T. Getting E.T. addicted to Reese's Pieces, the models turn him into their housecleaning slave. Not only is E.T. hideous to look at, he stinks, too, and when he snorts all of the models' coke they clobber him with a double-edged dildo. The flick ends on a happy note when E.T. cures one of the models' periods with his glowing finger and screws her into oblivion.
Blow Me is another film with an outrageous title, but turns out to be not only not as offensive as one might assume but also an insightful little flick. It was a brilliantly scripted examination of the female psyche as a woman sucks off some stoned loser until she finally wises up and realizes she can do better. Though directed by a guy, Marcel de Jure, it was excellently written by the flick's female star, Christina Beck.
Special Report by Bryan Boyce was a deceptively simple but grandly amusing flick. The mouths of TV news anchors were manipulated to spout idiotic dialogue from Ed Wood, Jr. movies. Clever, and knew enough not to include too much. Watch:
It was announced before it started that The Manipulators, directed by Andrew Jeffrey Wright and Claire E. Rojas, won the festival's Best Animation award at the ceremony I skipped out on. It's a film that succeeds almost solely on its originality. A fashion magazine is flipped through and various pictures of supermodels are doodled on and altered in various juvenile ways, such as showing them shit and have stuff squirt out their noses. Like Special Report, Manipulators was smart enough not to get too carried away with its clever idea.
Obsessed With Jews by Jeff Krulik was almost like a "Daily Show" news story about a guy, well, admittedly obsessed with Jews. He collects trading cards, autographs and fan mail from Jewish sports stars and celebrities. Looked like the guy had a couple dozen photo albums filled with this crap as well as a bookcase stuffed with Jewish reference books. Watch:
Also included in this collection was Surprise Cinema, a new cartoon by Bill Plympton who got famous on MTV about a decade ago with cartoons about a guy with stuff coming out of his head. His animation has become more subdued, controlled and plot oriented. Surprise Cinema was a cool piece about vicious Candid Camera-style pranks. Highlights were sunglasses replaced with magnifying lenses, a toilet replaced with an alligator, an airplane's exhaust engine used as a public restroom hand dryer, a man making love to an octopus and a man beating up his own brain to get a song out of it.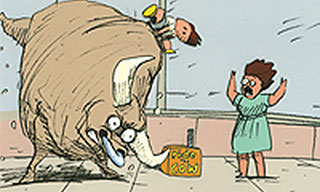 Continue on to 2000 NYUFF: Day 6, Part 3: Amerikan Passport.