Movie Review: 2000 NYUFF: Day 5, Part 2: Godass
I attempted to attend the 2000 New York Underground Film Festival's closing night awards ceremony (yeah, the festival still has 2 days to go, but they're only showing repeats for now on, so they decided to declare tonight "closing" night). Except, they chose to hold it in this rinky-dink tiny bar and there must have been 10,000 people packed in there. I was squeezed so tight I couldn't breathe so I just left and I'm now waiting for my subway to whisk me away.
I did attend two more flicks tonight. Well, one wasn't a real movie, it was a compilation of the highlights of a NYC public access show from the '80s called The Scott & Gary Show. It was pretty obnoxious stuff, but the show has become legendary for having performances by "unknown" bands like the Beastie Boys and the Butthole Surfers. They were unknown back then, anyway.
The B-Boys were so young they only played hardcore songs, didn't rap and even still had Kate Schellenbach (now of Luscious Jackson) on drums. The Surfers were funny because they were out of their minds tripping on acid during their performance and interview. The clips from the shows were interesting from a historical perspective, but mostly it was your standard almost unwatchable public access fare. And that's what made it so much fun!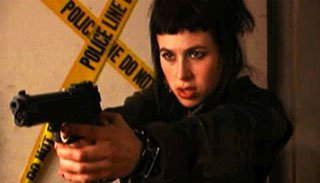 After that I sat through the fairly ambitious video feature about a punk teenage girl in the '80s called Godass by Esther Bell. From the title, the poster of the film depicting the movie's star wielding a gun and advertising blurbs promoting the girl's relationship with her homosexual father, I was expecting a wild, outrageous film. Instead, I watched a rather quiet, introspective movie about a girl trying to cope with a screwed up family and social situation.
There was much to be admired about Godass. Excellent acting all around with a very appealing main character, a subtle and dramatic performance by Fred Schneider of the B-52s, plus (exciting to me) a bit part played by a female bartender at my favorite watering hole, Enid's. While the film was a little too quiet for my tastes and I wanted it to penetrate its raw emotions even deeper, I still found it quite entertaining and engrossing.
Continue on to 2000 NYUFF: Day 6, Part 1