Movie Review: 2000 NYUFF: Day 5, Part 1: Short Films
Decided on four programs today at the 2000 New York Underground Film Festival with a long break in the middle. I just got out of my first two and have come to Barnes & Noble at Union Square to bang out this review before I have to go back in two hours. I wanted to sit in the park, but it got disastrously cold out since this morning.
I had to see the shorts program "Smells Like Tasty" because it was featuring a video by Kathleen Hanna, ex-singer of Bikini Kill and who now performs under the ingenue alias Julie Ruin. The film was an anti-corporate music video for Julie's song "Aerobicide," but not a performance video, just an abstract story of some businessmen trying to market riot grrrl music. There was one chick in the flick who could have been Kathleen, but I'm not exactly sure what she looks like.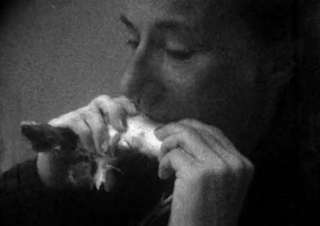 The best film in this collection was The Drowning Room by Reynold Reynolds which is also probably the most creative, ambitious film of the festival. Eerie and atmospheric and shot entirely underwater. Several sad vignettes are played out in the rooms of a house that have been submerged. Drowning is an impossibly tense experience and I found myself wanting to gasp for air throughout the entire film. (Watch The Drowning Room streaming online.)
The next best was Magic City, an oblique documentary about life in the small town of Moberly, Missouri. The film's director, David Wilson, attempted to make a doc about his friends, a bunch of young punks, but he never ends up hooking up with them. Actually, as I write this I have to question the existence of these so-called "friends", they're sort of a too convenient set-up for the "plot". Instead, David mostly interviews the youth culture of Moberly, particularly featuring two bands: One a riot grrrl band Daphne Greed and the other a heavy metal band that I unfortunately forgot the name of and stupidly didn't take notes on. Anyway, Daphne Greed were completely rockin' and everyone in Moberly seems to hate living there but don't know what else to do or where else to go.
The other shorts were all pretty bizarre.
Tim & Andy Fight and Then Go Bowling: Tim and Andy also sit around, ride the bus and never talk to each other even though this isn't a silent film. Directed by John Tagamolila. Watch:
Spiders in Love: An Arachnogasmic Musical: Martha Colburn animates female spiders dancing around and eating male penises, accompanied by the most most obnoxious soundtrack of all time. I loved it!
Embryonic: A meditation on pregnancy and motherhood, women dance around with various sized eggs. Directed by Robert Banks, Jr.
Nitwit Predelick: This started out real funny with an idiot couple licking pictures of horses in a book, but then a woman's wig climbed up the wall and I'm not sure where the piece was going. Directed by Xan Price.
Target: A man with bandages completely covering his face drives around a mall parking lot listening to cheesy '80s music. With this film, the guy keeps driving and driving and driving and you wonder if this is going to be the whole movie him driving and never stopping. And guess what? It is! Directed by Animal Charm.
Preserve Your Estate (Live): For this I just have to quote the festival's catalog: "A dreamy video mix that begins with a LaToya Jackson concert and ends with a somersaulting chimp." Directed by Animal Charm.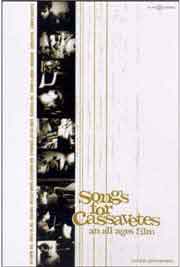 After "Smells Like Tasty," I sat through a feature-length black & white documentary about the independent music scene called Songs for Cassavetes, which kind of tread the same ground as The Shield Around the K, but without focusing on one person or one indie record label.
Hampered a little bit by a traditional documentary structure (interview-band-interview-band-interview-etc.), Songs was still a revealing look into a still largely ignored music scene. The director, Justin Mitchell, is an awesome interviewer and gets his subjects to give extremely insightful and interesting discourses into the nature of music and commerce. Bands profiled were two of my favorites Sleater-Kinney and Unwound as well as The Make-Up, The Peechees, Some Velvet Sidewalk, Dub Narcotic Sound System, the Hi-Fives and a few others.
It was kind of strange how all these bands more or less, without being interviewed together, all expressed notions how for most people their lives end emotionally at the age of 21. People arbitrarily pick this magical date in their lives to declare themselves an adult and put aside their frivolous childish impulses, activities and attitudes. I have to say that I have seen this phenomenon way more than I should as people in the prime of their lives start "settling down" and, quite frankly, become boring. Most of the punks in Songs actively reject that so-called "normal" lifestyle and plan on rockin' for as long as they can.
I'm with them on that.
(More on this film: Amazon)
Continue on to 2000 NYUFF: Day 5, Part 2: Godass