Movie Review: 2000 NYUFF: Day 4, Part 3: Migrating Forms
I am so hungover today. I only got to see two movies yesterday at the 2000 New York Underground Film Festival as it was my friend Becky's 30th birthday. I went out for a nice Thai dinner with her and other friends featuring overflowing glasses of wine and champagne. Then, we went to a bar. Oy, my head.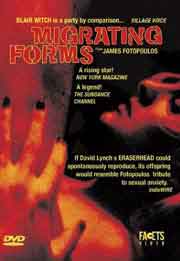 The other film I saw yesterday was Migrating Forms by James Fotopoulos, which is kind of an ironic title since nobody in the film actually goes anywhere. It was an experimental feature that I'm not sure how to begin to describe. Anything I say about it won't do the film's implicit weirdness justice. But, I'll try:
Guy makes love to a woman with a cancerous tumor the size of a football on her back, then finds dead bugs and animals all over his apartment. See, that doesn't sound right even though that's pretty much all that happens for an hour and a half. This description makes it sound like a piece of crap, too, when it was actually a pretty groovy flick.
(More on this film: Amazon)
Watch the Migrating Forms movie trailer (NSFW):
The festival this year is being sponsored by Jameson Irish Whiskey. So before every film we are subjected to a 30-second commercial for them. Four or five movies ago, I started applauding and hooting and hollering after each commercial. And I always get the audience to join me. This is my little anarchic contribution to the fest. Though it just might look like I love Jameson Irish Whiskey. Whatever.
Today I have the opportunity to see at the most five programs. I don't think I can do that. I haven't decided yet if I want to see three or four. Four might be pushing it.
Continue on to 2000 NYUFF: Day 5, Part 1: Short Films.