Movie Review: 2000 NYUFF: Day 4, Part 2: N.Y.H.C.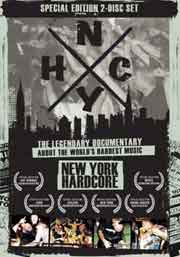 Just finished up with N.Y.H.C. by Frank Pavich. I was surprised that it seemed like none of the bands showed up for the screening. I would have recognized them, too, a bunch of angry, tattooed-up hellraisers.
Hardcore's mainly a macho aggression thing. Guys listen to the music and go to the concerts to beat the crap out of each other. Most of the guys in the film, musicians and fans alike, insist it's not about being violent, but I just watched a kid break his neck, another guy break his back and a guy with a mouthful of missing teeth. However, the doc was smart to include interview slips with at least one chick to show chicks are into the scene, too. All the bands were all guys, though.
It's a very angry form of music, but I couldn't figure out what everyone was so angry about. Lots of the guys have some sort of tragedy in their lives. One kid's father died of AIDS, another's brother committed suicide, lots of broken homes, plenty of ex-drug users. But also to show the tender side of the scene a hardcore Hare Krishna band was profiled. Hardcore, even though all the music sounds the same to me, encompasses various different lifestyles apparently. Hare Krishnas, Hispanics, Jews, Blacks. Not just the bunch of bored white suburban guys I was expecting, though there's plenty of them, too.
I gotta go take a leak before the next film starts…
Watch the underground movie trailer for N.Y.H.C.:
Continue on to 2000 NYUFF: Day 4, Part 3: Migrating Forms.