Movie Review: 2000 NYUFF: Day 3, Part 1: A Sudden Loss Of Gravity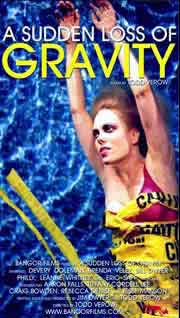 After last night's hardcore marathon, I decided to take it easy tonight and only see two programs. Most of the programs tonight are collections of shorts, which I'm sure I'd enjoy but I'm not as jazzed up about them as I am the features. The only problem, though, is my first film was at 6 PM and my second one is at 11:30. I've come home in between to get some work done, and rest.
The six o'clock movie was a feature: the video narrative A Sudden Loss of Gravity by Todd Verow. Todd has two films in the festival. This one and Once & Future Queen on Sunday. I think I'll see the second one, but not because I liked Gravity.
Gravity was mostly about a group of teens drinking in the early '80s in Bangor, Maine. That's about it. They drink, don't talk too much and not much else. There are a lot of characters but we don't get to know much about any of them. They all have weird, interesting stories, but none of their quirks lead to anything significant. Which I guess makes a point about real life, but I wasn't pleased with the final product.
One thing I did think about watching the film was that all these kids are drinking because there's nothing else to do in Bangor. Then, walking home after the flick, I serendipitously walked by a couple cops trying to rouse a homeless drunk passed out on the sidewalk on First Avenue. Paramedics were waiting by the curb with a gurney.
Also, as an epilogue to my review of Eyes to Heaven, this afternoon I bought a comic book prequel to the film called Feeders, written by Heaven's director Shane Hawks and illustrated by Mike Allred, an artist (Madman, The Atomics) who also produced the film.
The comic is supposed to help "explain" the film. It does sort of, but it didn't say too much that I didn't figure out from the movie. The comic just put things in concrete words while the film is extremely abstract.
And while I was at the comic store, I started chatting up the cute redhead who works there. She was drawing some sketches, which I asked her about. I gave her an Underground Film Journal sticker and she thought it was cool I do The Redemption Squad with Microsoft Paint.
Continue on to 2000 NYUFF: Day 3, Part 2.