Movie Review: 2000 NYUFF: Day 1: Born To Lose
I did end up hanging with my co-worker and a few friends of his before the opening night film of the 2000 New York Underground Film Festival, but I didn't sit with him. He sat way in the back and I don't like that.
Instead, I sat up close next to this annoying hyper chick who hooted and hollered all through the short flick Monkey vs. Robot. I thought to myself, "Is this pretentious wannabe hip chick going to be like this all night?" But oddly enough, she took off before Born to Lose even started. Afterward, I found out why. Sitting on the other side of her was her boyfriend: the director of Monkey vs. Robot, Geoff Marslett. I forgave her. I would expect my girlfriend to act the same way.
Anyway, Monkey vs. Robot was essentially a music video for a song by James Kochalka Superstar. It was funny. Guy in a monkey suit fights a guy in a robot suit on Coney Island Beach and at various NYC locations.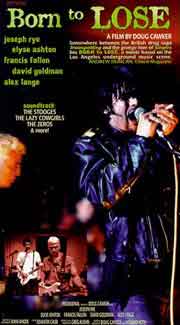 Born to Lose is subtitled The Last Rock & Roll Movie. Guess it alludes to the death of Johnny Thunders marking the death of rock music. He died in either '89 or '91. It's hard to tell by the movie. I'm also assuming he died of a drug overdose alone in a New Orleans hotel at the age of 38.
This wasn't a glorified VH1 Behind the Music special. It was an odd semi-cubist interpretation of a life. The strangest choice being Thunders was never interviewed for this film. (I should point out here that, yes, Thunders is dead now but the director, Lech Kowalski, said he started making this movie in '82 well before Thunders kicked the bucket.) The only main "rock star" interviewed was Dee Dee Ramone who gives no solid facts about Thunders' life and who mostly just finds many, many different ways to call Thunders a bastard.
Thunders must have led a tragic, screwed up little life. His family spoke very nicely of him, but since hardly any musicians were interviewed, the only people who were interviewed are a bunch of degenerates and drug addicts. One guy's so bad off he's interviewed from a hospital bed and he looks like all he has to do is fill out the paperwork to be officially declared a corpse.
The movie is hard to write about actually because it wasn't screened under optimum conditions. We were shown a videotape cut and the sound absolutely sucked. I really had to focus all my attention to understand what everyone was saying. Projected video always sounds like crap. I don't know why.
But the music was beautifully distorted and perfect for a true punk rock movie. Like I said there's tons of concert footage of Thunders and though he looks like a spaced out, drugged out skeleton from 1973 to 1989 (or '91), he never failed to be tremendously entertaining on stage. Well, at least in the clips shown in this film he's always tremendously entertaining.
What was most exciting about this film were some rare performances of the New York Dolls in all their transvestite glory. One person describes them as "always being a party on stage" and you really get that feeling from the footage shown of them. And while it's really cool and exciting to see that, it's also really sad when you see what toll sex, drugs and rock & roll takes on Thunders' body and spirit. That dude must have been one tortured soul.
Continue on to 2000 NYUFF: Day 2, Part 1.

Go back to 2000 NYUFF: Preview, Part 2.