1986: Heavy Metal Parking Lot Premiere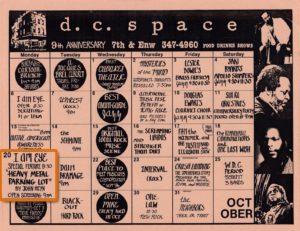 On October 20, 1986, the legendary underground documentary Heavy Metal Parking Lot made its world premiere at the music club d.c. space in Washington, D.C.
The club hosted punk rock shows, avant-garde jazz performances and poetry readings in D.C. from 1977 to 1991; and, at least in October 1986, held movie and video screenings on Sundays. A calendar from that month was recently posted on Facebook to confirm the Heavy Metal Parking Lot screening. Click the calendar above for a better view of it.
The calendar only lists John Heyn as the documentary's maker, but Heavy Metal Parking Lot was co-directed by Jeff Krulik. The video was produced five months earlier on May 31, 1986 when Heyn and Krulik — both public access tv station employees at the time — drove to the Capital Centre stadium in Landover, Maryland to interview the kids hanging out in the parking lot waiting for a Judas Priest concert to start.
Heavy Metal Parking Lot would become one of the world's most bootlegged videos, shared across the globe via VHS tapes. Heyn and Krulik have since released their film on DVD and made it available to watch online via SnagFilms. You can watch it here on the Underground Film Journal.
The documentary also features one of the most Outrageous! moments in underground film history. And to see how Heavy Metal Parking Lot fits into that history, please visit the Journal's Underground Film Timeline.