1985: The Cinema Of Transgression Manifesto Is Published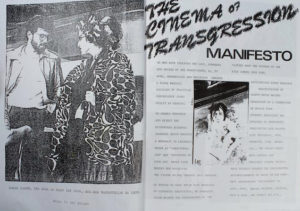 In September 1985, Nick Zedd published the fourth issue of his zine The Underground Film Bulletin, which featured a drawing of punk musician Richard Hell on the cover. Zedd published the zine primarily as a promotional tool to promote the work of his fellow punk Lower East Side filmmakers. The fourth issue included articles on Cassandra Stark, Manuel Delanda and Jim Jarmusch.
However, the most important article in this issue of the Underground Film Bulletin was Zedd's "The Cinema of Transgression Manifesto," which reads like a proclamation of war against avant-garde filmmaking and "academic snobbery." You can read the full manifesto here. As Jeriko, Zedd proposed that "all film schools be blown up and all boring films never be made again" and declared that "any film which doesn't shock isn't worth looking at."
According to an interview with Jack Sargeant in his book Deathtripping: The Extreme Underground, Zedd had conceived of the term "Cinema of Transgression" in 1979 and decided it was time to use it publicly in 1984 when he started publishing the Bulletin, but waited a year to do so. The reason for the delay between conception and announcement is that Zedd felt he had to wait until there were more filmmakers working in the field of transgressive films in the vein of his own work, such as 1979's They Eat Scum.
Zedd eventually decided that time was in 1984 when he hooked up with fellow LES filmmakers Richard Kern and Tommy Turner. Also in 1984, Zedd and Kern both began working on films about suicide — Thrust in Me (Zedd) and Manhattan Love Suicides (Kern) — while another filmmaker, Richard Klemann, made A Suicide.
In Deathtripping, Zedd states that the circulation of the Bulletin was only about 500 issues, but his desire to have the mainstream press take the Cinema of Transgression seriously started working when the Village Voice did an article on it later in '85. Zedd says the Voice got most of their information wrong on the film movement, but at least the word was getting out.
Images of the Underground Film Bulletin #4 cover and the first page of the Manifesto from the interior of the zine courtesy of Printed Matter. Click the images to embiggen.