1965-66: The Scorpio Rising Parody Mystery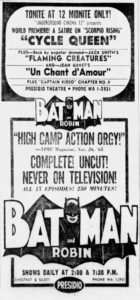 A genuine underground mystery has appeared! The above movie ad appeared in the January 1, 1966 San Francisco Examiner; and was posted on Twitter by Evan. It announces the "World Premiere" of the film Cycle Queen, which is billed as a satire on Kenneth Anger's classic film Scorpio Rising (1963). No filmmaker is listed in the ad. (Click the ad to embiggen.)
By 1966, Scorpio Rising was a genuine underground film hit that audiences would have been familiar with. The Cycle Queen premiere was a part of the "Underground Cinema 12" series created by theater manager Mike Getz, who was arrested in 1964 in Los Angeles for screening the "obscene" Scorpio Rising. Getz eventually had the charges against him reversed. Also, the oral history project Alternative Projections places the creation of "Underground Cinema 12" in 1968, but based on this ad it may have started two years earlier. (The Underground Film Journal has yet to confirm the Jan. 1, 1966 date provided by Evan.)
But, who directed Cycle Queen?
Later in 1966, in September, the Gulf Coast Film-makers' Co-op in Austin, Texas screened an excerpt of a parody of Scorpio Rising called Harley, directed by Gregg Barrios. Harley was to be the first film released by the Co-op and was to be screened in New York City and Berkeley, CA.
Did Barrios change the name of Cycle Queen to Harley? Or are these two different films? As mentioned above, Scorpio Rising was such a monster underground hit, it's entirely possible two different parodies of it were made. Or, it's the same film with different titles.
Barrios seems to have had a short-lived filmmaking career; and he's become more well-known as one of the U.S.'s leading poets. If anyone has any information on either film, please let us know. In the meantime, we'll keep digging to see what we come up with.