1962: Underground Roommates: Anger, Maas And Menken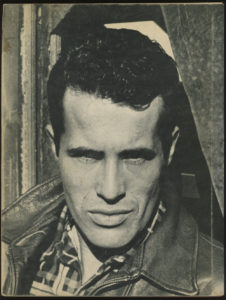 In 1962, Kenneth Anger moved to Brooklyn, New York and began living with married filmmakers Willard Maas and Marie Menken. Originally from Los Angeles, Anger had lived for a time in Europe because his early films, such as Fireworks (1947), had been received extremely well overseas. Alas, films that Anger worked on in France and Italy have been either disowned by the filmmaker or were never completed.
Once in Brooklyn, however, Anger became acquainted with a local motorcycle gang and shot footage that would eventually become his most celebrated work, Scorpio Rising (1963). You can watch this underground film classic and read about it here. It is also available on the Complete Magick Lantern Cycle DVD collection.
A year earlier, Menken had made a film about her future roommate, Arabesque for Kenneth Anger (1961), which is included on the DVD documentary Notes on Marie Menken. Willard Maas's film output was scant in the 1960s while he worked more attentively on his poetry during this decade.
Find out how these events fit into underground film history on the Underground Film Timeline.