1958 Movie Journal: Jonas Mekas' First Columns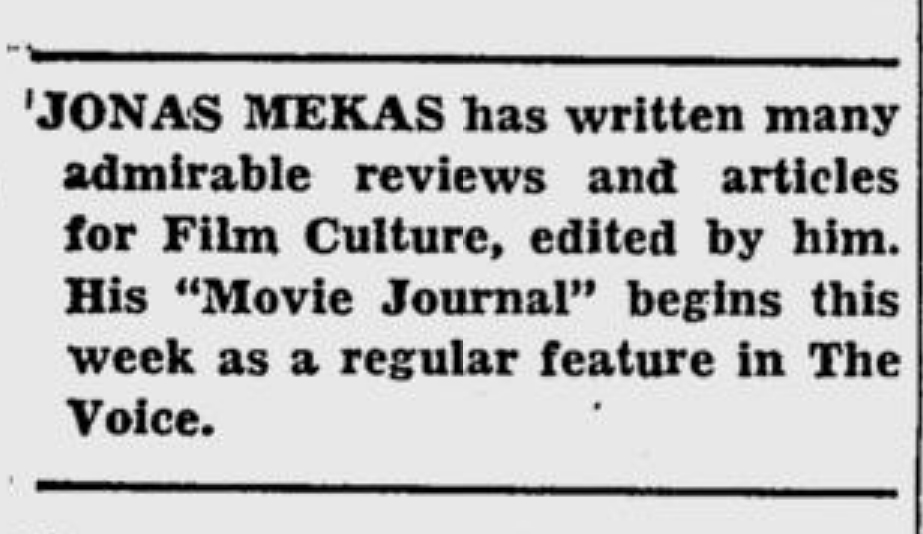 The November 12, 1958 edition of The Village Voice featured the first installment of the column "Movie Journal" by Jonas Mekas.
"Movie Journal" would become what the Underground Film Journal would argue was the most significant organizing tool of avant-garde cinema created by Jonas, even more so than the Film-makers' Cooperative and the Anthology Film Archives he helped found. But what was the column like before it gained such notoriety?
Well, we don't have to guess. The book collection Movie Journal doesn't start reprinting Jonas's columns until 1959, but the entire archives of the Voice are online.
As a weekly publication, the Voice only published twelve "Movie Journal" columns in 1958. The Underground Film Journal has read all twelve and extracted what films Jonas reviewed each week; as well as made notes of significant avant-garde film happenings.
Jonas reviewed only a few avant-garde films those first two months, including Maya Deren's then latest The Very Eye of Night, Stan Brakhage's Loving, Francis Thompson's New York, New York, and some other films playing at Amos Vogel's Cinema 16 screening series.
Below is the list of the films Jonas reviewed and notes, as well as direct links to each column:
Nov. 12, 1958
Movies Reviewed:
Pather Panchali, dir. Satyajit Ray
My Uncle, dir. Jacques Tati
New York, New York, dir. Francis Thompson
Notes: On Nov. 15 at 2:45pm, Thompson to speak on experimental film at the Museum of the City of New York.
New York, New York won a prize at the Brussels World Fair.
Nov. 19, 1958
Movies Reviewed:
Around the World in 80 Days, dir. Michael Anderson
The Seventh Seal, dir. Ingmar Bergman
Another Sky, dir. Gavin Lambert
Notes: Another Sky was presented by Cinema 16.
Nov 26, 1958
Movies Reviewed:
The Very Eye of Night, dir. Maya Deren
Mardi Gras, dir. Edmund Goulding (written by Curtis Harrington)
Witches of Salem, dir. Raymond Rouleau
Dec. 3, 1958
Movies Reviewed:
Roots of Heaven, dir. John Huston
The Inn of the Sixth Happiness, dir. Mark Robson
Ugetsu, dir. Kenji Mizoguchi
Dec. 10, 1958
Movies Reviewed:
The Defiant Ones, dir. Stanley Kramer
Lonelyhearts, dir. Vincent J. Donehue
Dec. 17, 1958
Movies Reviewed:
Life Is Beautiful, dir. Tadeusz Makarczyński
Two Men and a Wardrobe, dir. Roman Polanski
Dom, dir. Walerian Borowczyk and Jan Lenica
Loving, dir. Stan Brakhage
Notes: Winners of the Brussels Experimental Film Festival were being shown at Cinema 16.
Dec. 24, 1958
Movies Reviewed:
He Who Must Die, dir. Jules Dassin
Dec. 31 1958
Movies Reviewed:
The Horse's Mouth, dir. Ronald Neame
Notes: The Museum of Modern Art screened The Sex Life of the Polyp, dir. Robert Benchley; and Hallelujah, dir. King Vidor