1945: Maya Deren Wins Honorable Mention For Meshes Of The Afternoon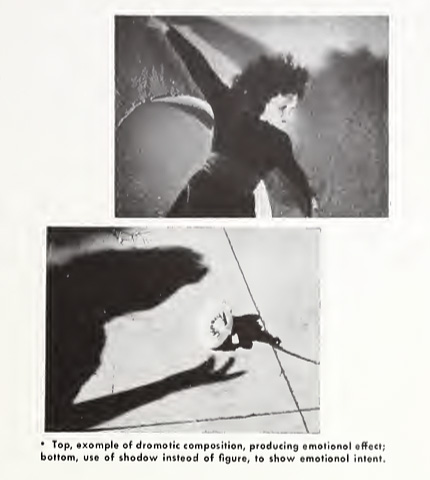 In 1945, Maya Deren was awarded an Honorable Mention for her first film, Meshes of the Afternoon (1943), by the Amateur Cinema League. This film, co-directed with her husband Alexander Hammid, would go on to become one of the most influential avant-garde films of the 20th Century. You can learn where to watch it here.
According to the Amateur Cinema Database, the League was formed in New York City on July 28, 1926 and began awarding their "Ten Best" list in 1930. The staff of the League's monthly publication, Movie Makers, would select their ten best films, then also award a number of Honorable Mentions in the pages of their magazine. The list was not typically considered a competition, but was an informal selection of films that the magazine staff wanted to highlight and recognize.
The Ten Best list of 1945 was published in the December issue of Movie Makers. Six months earlier, in the June issue, Deren contributed an article titled "Efficient or Effective?" in which she describes the filmmaking choices she and Hammid made for Meshes of the Afternoon in order to tell the most effective story visually. (In the article, Deren refers to her husband by his birth name "Alexander Hackenschmied.")
While Deren is most remembered for her groundbreaking filmmaking style, she was also an extremely aggressive self-promoter and film theorist, bringing attention to her work through efforts such as writing for Movie Makers. In the same issue as "Efficient or Effective?", Movie Makers published a short "Close up" of Deren, writing:
Maya Deren … is a gal who, we sincerely believe, will bear watching. And, with your kind approval, we propose to continue doing same. Not too many weeks ago she 'phoned us out of the blue to ask if we would be interested in seeing a couple of "experimental pictures." We said sure — and hoped for the best.

Well, we have now seen Meshes of the Afternoon and At Land twice each. We still haven't too clear an idea of what, exactly, either one is about — but they excite us tremendously. Miss Deren says this is all right and not to worry. "We (my husband and I) have been primarily concerned with the use of cinematic technique to create the feelings which a human being experiences about an incident, rather than simply to record the incident."

How Miss Deren creates these feelings she explains in her article. There is nothing esoteric or long haired about her technique, and it definitely does not depend on "gadgets" or the possession of the latest model Super-Cine. The ideas she suggests can be put into effect by any one! And on any subject — babies, birthdays or a trip to the beach. In a word, they are definitely hot stuff, and we recommend them to you.
Here is the list of all the winners of the 1945 Ten Best from the December 1945 issue of Movie Makers:
The Hiram Percy Maxim Memorial Award
While the Earth Remaineth, dir. Frank E. Gunnell
Ten Best — General Class
Arts and Crafts in Mexico, dir. Ralph E. Gray
Honey Harvest, dir. William W. Vincent, Jr.
Land Snakes Alive!, dir. Leo J. Heffernan
Lassie Stays Home, dir. Raymond J. Berger
Return From Fire, dir. Dr. Lynwood Heaver
The Alpine Vixen, dir. Anchor O. Jensen
The Inside Story, dir. Dan Billman, Jr.
While the Earth Remaineth, dir. Ralph E. Gunnell
Worth Scouting For, dir. Al Morton
Ten Best — Special Class
Navajo Rug Weaving, dir. E. Tad Nichols
Honorable Mention — General Class
Backyard Zoo, dir. Francis M. Spoonogle
Butterflies, dir. Robert S. Walker
Cystometrography, dir. Dr. A.I. Willinsky
Garden Truck, dir. Albert D. Furnans
Interlude in Sunlight, dir. Martin E. Drayson
Nantucket Turnabout, dir. Richard Elms
Ossining in Wartime, dir. Robert F. Gowen
Outside the Big Top, dir. Guy Nelli
Southern Exposures, dir. Ernest Kremer
Squeaky, dir. Walter Bergmann
The Big Adventure, dir. Henry E. Hird
This'll Kill You!, dir. Lon Wadman
Victory Celebration, dir. F. Clark Tufaro
Windjammer, dir. Sidney Moritz
Honorable Mention — Special Class
Meshes of the Afternoon, dir. Maya Deren and Alexander Hammid (Movie Makers mis-spelled as "Hamid")
The Patrol Method, dir. Visual Education Service