$100 Film Festival: Official Lineup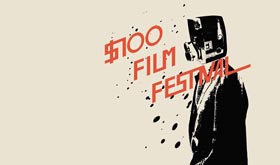 Calgary's $100 Film Festival is a celebration of film. Not "film" as a concept, but of actual celluloid. This year, their 19th, is three nights of strictly 8mm and 16mm films — No Video! — screening at the historic Plaza Theatre on March 3-5.
Each night starts off with a real bang: A unique live film and music performance by local musicians and filmmakers. Thursday features the combination of blues musician Erin Ross and a film by Farrah Alladin and Nathan Taylor; Friday is experimental indie band Axis of Conversation and a film by Alex Mitchell; and Friday is musician Kris Ip Ryzak and a film by Ben Tsui.
Also on Friday, mixed in with the regular lineup of films, is a mini-retrospective of Montreal-based experimental filmmaker Alexandre Larose, featuring four of his films — Artifices, 930, Ville Marie and Brouillard. Then, after all films have screened for the night, Larose will host a half-hour long artist talk during which time he'll discuss his filmmaking techniques, including his special camera modifications and use of hand-processing.
In addition, throughout the fest there are several films by animator Jodie Mack, two films each by Underground Film Journal favorites Zach Iannazzi and Paul Clipson, a horror-comedy monster movie by Greg Hanson, the modern experimental classic The Tin Woodsman's Home Movie #2 by Naomi Uman & Lee Lynch, a one-take Super-8 film by Noam Gonick, and tons more.
Then, the fest will close on Saturday with an award ceremony with honors going for Best of Alberta, Best 16mm, Best Super 8, Jury's Choice and an Audience Favorite.
Below is the full lineup of films, but for more info, please visit the official $100 Film Festival website.
March 3
7:00 p.m.: "Short Films"
Thursday Film / Music Explosion!, featuring music by Erin Ross and film by Farrah Alladin & Nathan Taylor
I Love (St.) Louis, dir. Joe Lachajczyk
Not in Service, dir. Matt Webber
My Friend Isabelle, dir. Roger D. Wilson
Memories of Uncle's House, dir. Gerald Saul
Harlot 428, dir. Kyle Thomas
The Tin Woodsman's Home Movie #2, dir. Naomi Uman and Lee Lynch (Read the review)
Monster of Mad Mooney's Lake, dir. Greg Hanson
Ice Cream, dir. Duncan Kenworthy
Posthaste Perrenial Pattern, dir. Jodie Mack
The Island of Hermaphrodites, dir. Noam Gonick
100 Foot Pull, dir. Alexander Stewart
Garbage Ghosts, dir. Craig Orrett
Hadley Grass, dir. Zach Iannazzi
Every Four Frames, dir. Alberto Cabrera Bernal
May Tomorrow Shine The Brightest of All Your Many Days As It May Be Your Last, dir. Ben Rivers
The Plant, dir. Vincent Varga and Bailey Clarke
March 4
7:00 p.m.: "Short Films"
Friday Film /Music Explosion!, featuring music by Axis of Conversation and film by Alex Mitchell
Artifices, dir. Alexandre Larose
Bridge Study, dir. Naren Wilks
Very Similar To, dir. Alexander Stewart & Peter Miller
Sign-Off, dir. Brett Bell
Chorus, dir. Paul Clipson (Read the review)
Garden Roll Bounce Parking Lot, dir. Melissa Friedling
Send & Receive, dir. Ryan Hill
930, dir. Alexandre Larose
B. bison, dir. Alex Rogalski
Unsubscribe 1 – Special Offer Inside, dir. Jodie Mack
Spiral In, Spiral Out, dir. Magnus Irvin
Ville Marie, dir. Alexandre Larose
Brouillard, dir. Alexandre Larose
Alexandre Larose Artist Talk
March 5
7:00 p.m.: "Short Films"
Saturday Fil m/ Music Explosion!, featuring music by Kris Ip Ryzak and film by Ben Tsui
Microform, dir. Emilie Serri
Reminiscences, dir. Alexander Sakarev and Krasmira Sakareva
Lift-Off, dir. Erin Sneath
See/Saw, dir. Charlie Egleston
Christmas Compunction, dir. Cassidy Banks and Greg Jackson
Etching With Light, dir. David Mason
Fowls, dir. Craig Orrett
So Long, Kodachrome, dir. Jim Granato
To Be Regained, dir. Zach Iannazzi (Read the review)
CGY, dir. Luke Black
Kinestasis, dir. John Kneller
Down, dir. Scott Fitzpatrick
All That Sheltering Emptiness, dir. Gina Carducci & Mattilda Bernstein Sycamore (Read the review)
Sphinx on the Seine, dir. Paul Clipson (Read the review)
Scenes From a Secret World, dir. Amalie Atkins
Big Jim, dir. Charlie Hill
Unsubscribe 2: All Eyes on the Silver Screen, dir. Jodie Mack