$100 Film Festival: Early Picks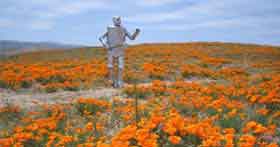 Calgary's $100 Film Festival has announced the films selected to screen at their 19th annual event that will run on March 3-5 at the Plaza Theatre. The lineup includes 45 films by 39 filmmakers, including a retrospective of the work of Montreal-based Alexandre Larose.
What's extra special about the $100 Fest is that, in this increasingly digital age, this event remains a steadfast celebration of celluloid. All films screening over the three days will be on film, either Super 8 or 16mm. In addition, Larose, whose work involves manipulating camera equipment and hand film processing, will be in attendance for an artist talk and an advanced workshop on optical printing.
Several of the movies screening have been reviewed previously on the Underground Film Journal and are highly recommended for those interested in attending the fest. They include Naomi Uman & Lee Lynch's wonderfully disorienting Tin Woodman's Home Movie #2, which features Lynch standing in a poppy field taking pictures with passersby.
Experimental filmmaker Paul Clipson has two films screening at the festival: Chorus, a hypnotic meditation on light; and Sphinx on the Seine, a cubist interpretation of the famous river. Plus, there will be one of the Underground Film Journal's favorite short films of 2009, Zach Iannazzi's To Be Regained, a disturbing examination of the fishing industry; as well as Gina Carducci & Mattilda Bernstein Sycamore's sad meditation on male hustling, All That Sheltering Emptiness.
In addition there will be films by Jodie Mack, Luke Black and Noam Gonick, as well as a second film by Iannazzi, Hadley Grass.
The Underground Film Journal will post up the full lineup of the $100 Film Festival as soon as it's announced.