2013 Ann Arbor Film Festival: Award Winners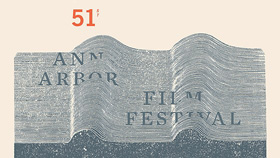 The 51st Ann Arbor Film Festival, held back on March 19-24, gave out 20 awards to 28 films, as selected by the three-panel jury of filmmakers Kevin Jerome Everson, Laida Lertxundi and Marcin Gizycki.
Winners include Michael Almereyda's short profile of a Northern England fishing village, Skinningrove, won for Best Documentary Film; Yuri Ancarani's surgical film Da Vinci won for the Most Technically Innovative Film; and Frédéric Moffet's meditation on Montgomery Clift, Postface, won for Best Experimental Film.
The full list of winners is below and you can check out the entire lineup of 2013 Ann Arbor Film Festival here.
Ken Burns Award for Best of the Festival
Our Nixon, dir. Penny Lane
The Stan Brakhage Film at Wit's End Award
I Am Micro, dir. Shai Heredia, Shumona Goel
Lawrence Kasdan Award for Best Narrative Film
Bite of the Tail, dir. Song E. Kim
Michael Moore Award for Best Documentary Film
Skinningrove, dir. Michael Almereyda
Award for Best International Film
2012 , dir. Takashi Makino
Peter Wilde Award for Most Technically Innovative Film
Da Vinci , dir. Yuri Ancarani
autFILM Award for Best LGBT Film
Encounters I May or May Not Have Had With Peter Berlin, dir. Mariah Garnett
Leon Speakers Award for Best Sound Design
Life Is an Opinion, Fire a Fact, dir. Karen Yasinsky
FotoKem/Colorlab Award for Best Cinematography
Despedida (farewell), dir. Alexandra Cuesta
People's Park, dir. Libbie D. Cohn, J.P. Sniadecki
The No Violence Award
I Remember: A Film About Joe Brainard, dir. Matt Wolf
Gus Van Sant Award for Best Experimental Film
Postface, dir. Frédéric Moffet
Chris Frayne Award for Best Animated Film
Burning Star, dir. Joshua Gen Solondz
The Barbara Aronofsky Latham Award for Emerging Experimental Video Artist
Pareidolia, dir. Maya Erdelyi
Prix DeVarti for Funniest Film
Liberaceón, dir. Chris Vargas
Tom Berman Award for Most Promising Filmmaker
Split Ends, I Feel Wonderful, dir. Akosua Adoma Owusu
George Manupelli Founder's Spirit Award
Flower, dir. Naoko Tasaka
Art & Science Award
Dear Pluto, dir. Joanna Priestley
The Eileen Maitland Award
Lie Back and Enjoy It: A Film About JoAnn Elam, dir. Jessica Bardsley
Award for Best Music Video
Reagan by Killer Mike, dir. Daniel Garcia, Harry Teitelman
Jury Awards
Handful of Dust, dir. Hope Tucker
Solar Sight II, dir. Lawrence Jordan
Coversong, dir. Eric Dyer
More Is Always on the Way, dir. Bryan Boyce
Releasing Human Energies, dir. Mark Toscano
Circle in the Sand, dir. Michael Robinson
Phantom of a Libertine, dir. Ben Rivers
Dad's Stick, dir. John Smith